The Michelin man from Michelin, Tony the tiger of Kellogg's cereal, McDonald's clown and the more recent Panda of the Olympics 2022, are just a few of the recognizable mascots of famous brands. How many times have you also seen animations or unique characters on TV that you recognized and immediately associated with the brand? This is exactly what a mascot does in brand marketing.
What is a brand mascot?
A brand mascot, which can be an object, a person, an animal or something completely invented, is a character that strengthens and "humanizes" the brand itself. It can amplify your reach and is considered a smart and funny way to make your brand personality and consequently, your marketing, special and unique. The mascot can be used in your logo, in your website, in your social media ecc.
Why use a mascot for your brand marketing strategy
Strengthens your brand identity
Help your brand to express personality
Grab the attention of the audience without using any word
Increase brand awareness
Increase audience engagement
Establish a personal and emotional connection with your audience
In some cases more reliable than an influencer (they can do mistakes that can cause negative impression about your brand)
For small business can be budget-friendly in long-term marketing strategy
The mascot becomes an integral part and active character of your brand, it will be its face! Particularly today it is important to stand out from competitors in this highly competitive market, in which companies are looking for new ways to connect with their audience.
An interesting fact is that this branding method is already widely used in Asia, like in China, Japan, Thailand etc., where mascots have been one of the main components of marketing strategies for a long time, because funny and cute characters are much more welcomed by the public of any age.
What keep in mind when creating your mascot
Creating a mascot is easier said than done. It is a creative process that needs time and reflection. You should take in consideration:
What is your mascot personality?
Will it be an object, human or animals or something else?
How does it tie into your brand?
Will you give it a backstory?
The first judges of this new decision of yours should be your own audience because this strategy can also be a failure if it's not right fitted with your target group. It is advisable not to throw yourself headlong with this idea and push it hard in every platform or service of your brand. Start showing one or more mascot ideas on your social media and study the reaction of users.
We at W4 couldn't resist creating our own mascot. We took inspiration from an internal joke in our team and one of our graphic designer members made our own dinosaur: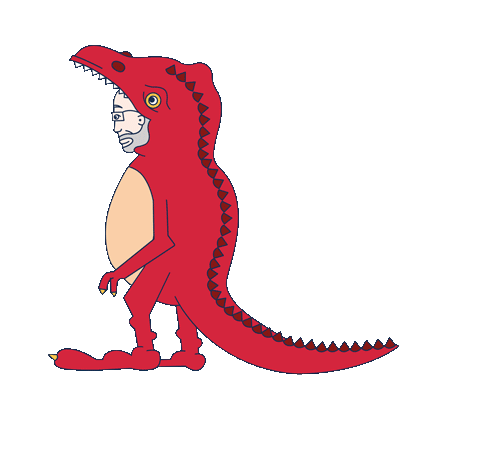 Do you want to undertake this branding marketing strategy too? Do you want a completely personalized mascot? Our graphic design team will be happy to realize it for you. Contact us now!