No business can afford incorrect product information in catalogues or online shops. Still, it happens. The reason for this is that product data is often stored in various file formats and versions in different places. The consequence is a loss of revenue. Product information management can help this problem.
The sales world has become more complex. Customers not only research offers in catalogues anymore. A multitude of channels has been added over the years. There are external online shops, corporate websites, mobile apps and social media. The distributed content should also match the channel on which it appears to enable a homogeneous and rich user experience. Keep in mind: good experiences sell products. The objective is to provide correct and always up-to-data data on every single channel – a Sisyphean task once a business has more than a handful of products and services in its portfolio. Every product information has to be entered for every channel. The synchronization of all product data becomes a nightmare and a full-time job for your sales personnel.
Unfortunately, this is still the reality of many businesses. Data management becomes a drag for every business. It costs human resources, time and money. Unsynchronized product data can lead to a variety of problems:
Higher costs and bad customer experiences can be the consequence of false product information
Contradictions among various data sources delay product launches
Duplicate or false information can be in conflict with compliance guidelines
Users get upset when they find contradicting product information on different channels
The manual synchronization of product data wastes internal resources
Download our free white paper on the subject: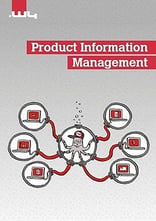 One System, All Channels
Businesses that want to manage sales and marketing process more effectively should turn to modern technology: product information management (PIM) put a stop to the arduous process of collecting and manually consolidating product data from various departments. Research and development, sales and marketing departments can now use the same software solution, update and manage product information in real-time and can therefore work more efficiently while avoiding costly mistakes.
A professional PIM solution provides ready-to-use product information for all the sales channels you use. This greatly minimizes the efforts required for data storage and editing. A PIM enables businesses to communicate product information that meets the requirements for different content distribution channels, such as online shops, websites, mobile apps, print media as well as POS activities. Features such as individual rights management do their part in simplifying workflows. Moreover, a PIM paves the way into global markets: distributing product information in various languages and currencies has never been this easy.
The advantages at a glance:
✓ Improve the search and information quality for customers
✓ Minimize losses caused by incorrect product data
✓ Enable more transparency and productivity in data management
✓ Profit from shorter product roll-outs
Our service: Are you looking for a product information management solution that meets your criteria? We will gladly advise you on the available options and can also realize the implementation of you new PIM. Get in touch!