It is more cost-effective to retain existing customers than to generate new ones. However, one bad experience may destroy the trust that was built over years. Reason enough to look to other vendors for many customers. Customer Experience Management is a concept that is about keeping customers happy and loyal to ensure long-term business growth.
The internet has made the world more transparent. This circumstance puts the customer experience front and center of the customer life cycle. The quality of a product is not the only important criterion. That a product meets the requirements and is as advertised goes without saying. However, the way towards a purchasing decision is already part of the offer. It is about the experience a client makes with a brand (before, during and after a purchase). The more positive experiences are, the more likely it is that customers share their experiences online. Word-of-mouth advertising is part of this, although it happens online and every shared experience is available to the public. Once out there, a negative assessment is likely to remain online and visible to everyone. So you better generate positive reviews!
What exactly does Customer Experience mean? The term refers to the total sum of interactions a customers has with a brand. It is not a singular occasion, but refers to all points of contact in the past, present and future. Continuity is key.
Download an exclusive white paper on the topic: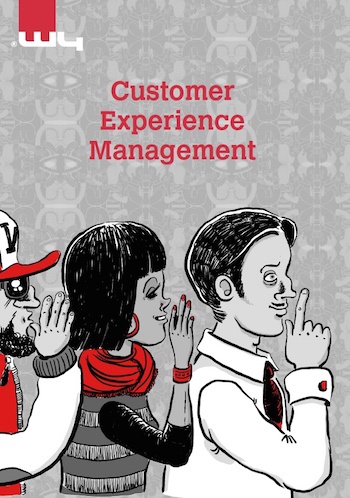 Managing the customer experience requires a certain amount of empathy. Companies often expect the optimum but fail to plan for the worst. They have to look at their web and service solutions from a customer's perspective in order to anticipate and eradicate issues that may occur. When creating all touch points, possible negative encounters should always be taken into consideration. What happens when a client is unable to find the information s/he seeks? What happens when a client wants to file a complaint? Companies have to have a solution for these issues. It is worth the effort: happy customers become returning customers, and returning customers share their positive experiences with their peers.
As already indicated, customer experiences happen at touch points during the customer life cycle. Touch points are all moments in which a client interacts with a company: website, support center, department store, social media, the products themselves. The touch points accompany the customer through the customer journey from the first piece of information to the final purchase.
What else is important other than a thorough analysis of all touch points and a clear understanding of the customer journey?
Target groups: You need to fully understand the needs of your customers in order to meet them.
Objectives: What is your main motivation for doing Customer Experience Management?
Brand promise: What are your brand's values? What do you have to do to carry the brand promise out into the world? It is important that your employees understand and identify with your brand values as well.
Controlling: Find out how satisfied your customers really are. Surveys and feedback centers are a good way to find out more about customer satisfaction.
Continuity: Your brand promise has to be apparent on all touch points at all times.
Marketing Automation: Give users the right information at the right moment. Customer Experience Management can be helped tremendously with Marketing Automation software.
In short, this is why you should consider Customer Experience Management:
✓ Clients become loyal fans
✓ Employees and customers identify with the company values
✓ You raise brand awareness
✓ Word gets out you deliver what you promise, hence you generate new leads
Our service
You have not yet invested in Customer Experience Management? As a full service agency, we would be happy to help you. Get in touch!