Customers do not become advocates for a brand just because its product features are great. Brands that manage to make their customers 'bring the good news' expand their reach and improve their image – without taking action themselves!
Evangelism marketing is the advanced form of word-of-mouth marketing. The objective is to develop clients who believe so strongly in the brand that they become its voluntary advocates. This means that they convince others to trust the brand without receiving any reward. They recommend the brand and its products out of pure belief, hence the term 'evangelism marketing'. This approach therefore goes beyond loyalty programs such as bonus miles.
Companies that successfully develop customer evangelists profit in various ways:
the comparably low costs bring a high return on investment
the brand becomes recognized in a positive light
an ideal approach to market intangible services
improves customer loyalty and lowers costs for new acquisitions
Get all the details and download our free white paper on evangelism marketing: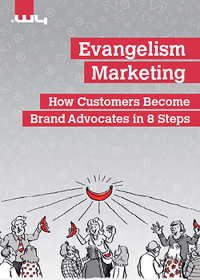 There simply is no form of communication as valuable as this approach. After all, we all trust the recommendations of friends more than advertising messages. However, this form of marketing takes both time and consideration. The following eight steps provide a framework for developing your own evangelism marketing strategy:
Who are your clients?

This is marketing 101: define your target group!
What do your clients think?

Research the desires of your target groups. A quick online survey is usually too superficial to get real insights. Do individual interviews to get to the bottom!
Do you take your customers seriously?

Getting data is one thing, putting the data to work is something else entirely. Customers appreciate brands that take their wishes seriously and that are interested in optimizing their products and services. Be open to customers' suggestions!
Do you know your competition?

Customers do not become advocates because they have a mediocre product. They want to use the best. Therefore, keep an eye on the competition, especially with regard to what other people think about the products of your competitors. Use these insights to differentiate your brand!
Do you have engaging content?

You want to be perceived as original, innovate and trustworthy. However, you cannot expect your customers to do this for you by themselves. Give them something they can work with and that they can share. Content is king! Therefore, create videos they might like to share or develop gamification elements that keep them engaged.
Do customers have a convenient way of interacting?

Once people are convinced of your products and they like everything you do, they should be able to share their feelings with their peers. Motivate them to share your newsletter or viral video and make it as easy as possible. The same applies to interacting with your service!
Are you approachable?

Some companies hide behind contact forms that are not easily found. Then they wait a couple of days for a response. Companies that approach service in this way will never develop brand evangelists!
Are your employees happy?

Your employees are the ones who interact with your customers. If they are happy and motivated, they will provide a great customer service. Invest in your employees happiness!
Our service: Evangelism marketing consists of many aspects. A marketing automation solution can simplify this approach a great deal. We would be happy to advise you on the subject. Get in touch!