The more competitive the markets, the higher the pressure to innovate. Instead of investing more money into developing new products and making improvements, companies can also use the wisdom of the multitude in order to develop and produce goods that prove to be successful. Thanks to crowdsourcing, companies not only reduce risks, they also do something for their image. Crowdsourcing, crowdfunding, crowdinnovation – Three terms that have one common denominator: the crowd, i.e. an anonymous multitude of people. Crowdsourcing can be understood as an umbrella term that describes an outsourcing process – services, ideas and funds are solicited from a large group of people.
Crowdfunding: All pay, one delivers.
Crowdfunding is the funding of a project through a campaign on an online platform such as the internationally leading providers Kickstarter and Indiegogo or 100 Days (Switzerland) and Startnext (Germany). These platforms have become widely recognized, especially because creatives like musicians and filmmakers have increasingly financed their projects using Kickstarter and Co. But it is not only musicians that can get funding with crowdfunding, but everybody who has an interesting project that is in need of financing. On most platforms, the "all-or-nothing"-rule applies, which means that if the funding goal is not reached, the project will receive no money at all. It is not enough to have a great idea, but an appealing campaign that convinces an anonymous multitude to give money is equally important. In Switzerland, two thirds of crowdfunding projects reach their funding goal.
Popular for quite some time in the USA, crowdfunding has seen a steep increase in funding volume in Switzland the past two years: From 2012 to 2013, the funding volume more than doubled to 11.59 Mil. CHF. According to a study by the University Luzern, the funding volume will double again this year.
Crowdinnovation: Everybody joins in, one produces.
There is another way to profit from the multitude. This time, it is all about the wisdom of the crowd, or swarm intelligence. Innovation is not based on the individual work of one genius. Rather, it is a social process by which different opinions collide, ideas are exchanged and new needs come into being. Understood this way, it is only natural to seek the knowledge of the multitude for improving and developing (new) products. And it has never been as easy as today. It is impossible to get a couple of thousand people into a room and listen to them. The internet, however, has enough room for everyone. This brings with it a tremendous advantage: You get access to a wide range of skills, opinions and knowledge, a variety that no company can possibly employ in-house. The cream on the cake: People participate for intrinsic reasons and not because they expect to get paid for their input.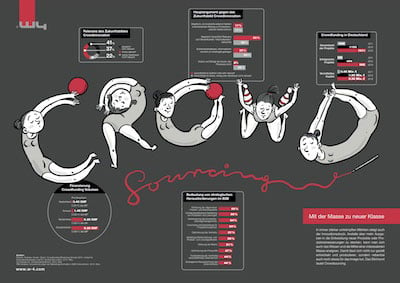 Download our infographic here.
Getting opinions and input on how to improve existing products is only one way to use the crowd. Recently, a candy manufacturer conducted a poll on flavors and produced the top five picks for a fan edition. It is all about results: Producing a product that people are interested in actually buying. This way companies not only can save research and development costs as well as reduce risks, they also do something for their image by presenting themselves as open, customer-oriented and authentic.
Even though these examples seem to suggest B2C, crowdinnovation can also be profitable in B2B. Think, for example, of using a secure app in order to get suggestions for product and service improvements. It does not even have to be a webpage or an app, you can simply do old-fashioned, but efficient telephone marketing. Simply call your clients and ask them how you can improve your services for them. This will ensure that you produce what the market really needs and it fosters client loyalty.
No matter if it is crowdfunding or crowdinnovation, a well thought-out campaign is important in order to be successful. Consider the following:
define your goals clearly
be communicative – interact with the crowd
chose the right communication channel
motivate the crowd to participate
collect and analyze data
Our services
We consult you on your crowdsourcing plans and gladly help you to develop and carry out your own campaign. Get in touch!