Lead generation usually strives to draw the interest of as many potential customers as possible. Account-based marketing (ABM) is different. ABM aims at a smaller selection of potential customers. This is particularly intriguing if you want to win large companies as customers. This makes ABM a special form of B2B marketing ("business-to-business" marketing).
In ABM, potential customers are clearly defined and addressed individually. They represent the "accounts", that is the decision-makers of the company that is targeted as a new customer. ABM starts with the identification of the target accounts' IP addresses. This can be accomplished if the targeted account visits the advertiser's website or clicks an account-based online ad. As these examples show, content tailored to the individual accounts is crucial to the success of the campaign. The target companies are approached one-on-one, which makes ABM the opposite of mass marketing. This does not mean, however, that the accounts are addressed only via a digital communication channel. It is quite possible and useful to use several channels. To do this, it is important to use marketing automation to coordinate various marketing activities on a number of channels more effectively.
Learn more about this in our infographic: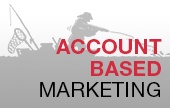 The disadvantage of ABM could be the fact that only one account or a smaller group of accounts are addressed. However, if we consider that these accounts represent the decision-makers of large companies who could become prestigious as well as paying customers, the advantage of ABM becomes clear.
Compared to current inbound and outbound marketing campaigns, which have the goal to attract a large number of people, ABM is not geared toward quantity. Rather, potential high-reward customers are focussed and addressed via qualitative content, which is specifically created for the small selection of accounts. The objective is to market and sell many services to these targeted businesses.
Inbound and outbound marketing campaigns, on the other hand, try to offer and sell a service to as many potential customers as possible. This strategy offers the greatest rewards if the target market is particularly large. However, if the target group is relatively small, ABM is the superior strategy. The company size does not matter when doing ABM.
Another important aspect that can be realized with ABM is customer loyalty. Once a target account has become a customer, other offers, services, or upgrades can be offered through an account-based campaign. This personalized approach has the positive side-effect that companies can be approached on an emotional level to further deepen the relationship between both parties.
Before launching a marketing campaign, brands have to decide which strategy will ultimately reap the best benefits: do they want to attract as many prospect as possible or would they rather concentrate on a selected number of potential high-reward customers? In order to answer this question, market research or "ideal customer" models can be helpful.
Account-Based Marketing with Marketing Automation
Take, for example, a company that specializes in the development and production of special sensors for the semiconductor industry. This business has a very specific target market and is therefore predestined for an ABM strategy. The size of the target group is generally determined by the potential prospects of the advertised product. The semiconductor industry is represented on an international level, which makes online marketing measures very useful as they are quickly realized and distributed.
If a company wants to conquer the market of another country - that is, also attract foreign customers - account-based marketing in conjunction with marketing automation offers a promising strategy. Once the target market has been defined, the desired customers can be filtered out and addressed individually via various communication channels. A software platform such as HubSpot with its workflows can be used to automate communication activities, facilitate the generation of new contacts and streamline the nurturing process. Marketing automation software allows marketers to manage various channels such as e-mail, social media, websites or blogs on a single platform.
Advantages of ABM:
You do customer acquisition without direct contact
You can motivate already existing customers (accounts) to purchase additional products
You address decision-makers individually
You can complete larger transactions with targeted companies
You improve marketing-sales alignment
You provide a basis for personalized and efficient marketing strategies
You can build and maintain an emotional customer relationship
Our service: True to our motto "Marketing Meets Information Technology", we can offer you all services from consulting and creation to technical realization from a single source. Get in touch!