Many companies focus mainly on marketing individual products. Branding too often moves into the background. But by you making the brand image a focal point in marketing, businesses will positively affect all products marketed under the brand.
Apple introduces a new iPhone and already days before sales start you will see people lining up at the stores. Most consumers in this queue already have a (perfectly fine) smartphone, often even the predecessor of the new model. They do not stand in line because they need a new smartphone, but because they want the new model of this particular brand. Aside from product quality, the brand itself is already a selling point. Hence businesses should pay attention to how they position their brand instead of focusing solely on communicating the quality of their products.
This scenario illustrates consumers' and above all the Millennials' new brand perception. They want to enter into a relationship with the brand and have new experiences. Branding can thus be regarded as a social-psychological phenomenon. The classic brand concept has been worn out. An integrated and identity-oriented brand management is required instead. Faced with a generation that wants to communicate on various digital communication channels, as well as to share and discuss content, the one-directional communication of a prefabricated self-image is not going to work. Integration and collaboration are the maxims of modern branding.
How exactly does the new brand marketing work?
In the "old" brand marketing model, the goal is to convey a specific, fixed image to consumers. This strategy is unidirectional. The new model, on the other hand, has a multidirectional approach. Ultimately, it is about inviting consumers to engage interactively with the brand and promoting the exchange of people's opinions about the brand. The development of campaigns and messages centered on the brand itself has been pushed aside long enough in favor of product marketing.
Millennials prefer to have several options and offers to choose from. They want to be engaged and actively shape the brand relationship. Thus, when companies offer communication platforms that focus on the brand, they can create positive user experiences and support brand loyalty.
A brand marketing model, in which the consumer is the focus, must, of course, be flexible and always respond to the target group's activities. Agile marketing is therefore ideal for realizing a marketing model that puts the brand in interaction with the consumers and different media. Communication should be at eye level.
Influencers can be used very profitably in this strategy, as they open up a large reach through their followers. They can spread the brand message and provide the stimulus as well as the space for engaging with a brand.
Read more in our free infographic: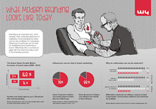 Advantages of the new brand marketing
The decisive advantage is that the consumers are addressed more individually and are motivated to interact with the brand. If a positive brand image emerges that consumers have actively influenced, it will have a positive effect on all the brand's products. Such an approach to branding requires an agile marketing strategy since the company has be able to react to changes in the brand image and customers' feedback at any given time.
Your advantages at a glance:
invite users to actively contribute to the brand image
promote customer loyalty
Address consumers individually
flexibly respond to new developments
positive effect on the products marketed under your brand
Marketing automation
A marketing automation software platform is recommended to distribute and manage branding campaigns on different channels. With these tools, workflows can be easily visualized, customized and personalized. In addition, they enable simplified communication, web controlling and CRM synchronization. A further advantage of marketing automation software platforms is that the user-friendly evaluation of individual campaigns and their long-tail effects. It is recommended to define KPIs (Key Performance Indicators) in advance, which can be used to determine the success of the campaigns.
Our service: From consulting to strategy to realization: as a full service agency, W4 can offer all components of modern branding from a single source. Get in touch!