Customers prefer to research information themselves before they contact sales representatives. This increasingly applies to the technically savvy B2B buyer as well. Trade fair appearances and product data sheets are no longer sufficient to meet customers' information needs. Content marketing is the solution.
Many B2B companies still rely on personal contact and hope the quality of their products speaks for itself. However, the Customer Journey begins long before contact is established. According to the Smart Marketing for Engineers 2016 study, 66 percent of the surveyed engineers have three to seven interactions with a vendor before they get in touch with them. Correspondingly, companies should make a change of strategy from classic outbound marketing to inbound marketing.
Traditional companies run the risk of being overtaken by these new buying habits. It is important to adapt to the increasingly digitized market environment and to use its resources to show potential customers that they have the best solution for customers' problems. In the following five steps, we show you how this can be done.
Download our free infographic on B2B content marketing: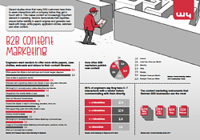 1. Identify problems of the target group
The prerequisite for successful content marketing is a deep understanding of the target group's interests and needs. Content marketing does not mean randomly producing content that ultimately nobody wants to see. Questions to be addressed in the target group definition are: Which industries have a use for my products and services? What are the characteristics of these individual sectors? How should individual companies in these sectors be approached?
The experiences from sales should be considered in the target group analysis. Although customer contact is no longer the gateway of the Customer Journey, it can be a good starting point for the content strategy. Sales employees, whose daily bread is ultimately the personal customer contact, know best where the customer's shoe pinches. The problems and suggestions with which customers approach the company should be taken up by marketing in order to create relevant content. After all, we can assume that customers research these pressing questions before contacting a sales representative. A company that demonstrates its expertise online beforehand will ultimately get the contact.
2. Long-term measures for long-term success
The fact that users are increasingly researching solutions independently brings us to the next point. Many B2B companies rely on performance marketing measures like Google Adwords to generate attention for their offers. Since B2B business transactions are often in the five to six-digit range, long-term measures should be preferred. This does not mean that performance marketing has no value at all as it still can be used to strengthen visibility in search engines. Nevertheless, anyone who invests more budget in Google Adwords than in their content marketing is utterly short-sighted. Content marketing not only satisfies the information needs of potential customers, it also ensures visibility on search engines. Anyone researching a keyword will see an ad relevant to the search item. Users, however, prefer to click on the first three organic results, which appear directly under these paid results. These organic search results are perceived as more credible since they are displayed at the top due to their relevance for the specific search inquiry and not the advertising budget that was invested.
3. Technical B2B buyers look for accurate information
While B2C content marketing often focuses on generating attention and emotions, B2B content needs to be convincing and show expertise. This does not mean that only theoretical information should be offered. Through the techniques of storytelling, rather dry facts can also be presented in an entertaining fashion.
Viral videos are therefore not a promising content strategy in B2B marketing. The results of the already mentioned Smart Marketing for Engineers 2016 Study indicate this as well. Engineers are primarily looking for white papers, which explain a topic with images pictures and diagrams, case studies and application stories as well as webcasts and short product videos. While white paper and case studies are well-known tools, videos and webcasts are currently trending. 360-degree videos can be produced without much effort and allow customers to explore products from all angles. Podcasts, in which experts exchange ideas on a topic, are a good way to stage the brand as a problem solver.
4. Pick up potential buyers in the right place / distribute content
Good, relevant content will be found by search engines, as long as the technical aspects are also sound (responsive design, low loading times, etc.). Nevertheless, it does not hurt to promote content and distribute it in the right places. A good distribution channel is Twitter. LinkedIn is also a great platform for sharing blog posts or taking part in group discussions. Not to be forgotten is the company's newsletter, which supplies existing customers with new offers (hence you should not completely abandon outbound marketing methods).
5. Generate leads
Although more and more B2B companies rely on content marketing, many do not yet generate leads. However, this is ultimately the purpose of content marketing. Many companies give away their painstakingly created content for free. If you want to generate leads, you need customers' contact data to carry out further marketing measures. Therefore, special content, such as white papers, studies or webinars should be made accessible only through a registration form which asks for the users' name, e-mail address and industry.
Your benefits at a glance:
You generate new leads.
You position your brand as a problem solver.
You improve your search engine ranking.
You will learn more about the needs of your customers.
Our service: From consulting to strategy development to content creation and technical realization, W4 can offer you all services from a single source. Get in touch!