Digitization is in full-effect. Not only do we go online using desktop computers at home, but increasingly so when we are on the move in the analog world: tablets and smartphones enable us to go online anytime and anywhere. Effective marketing must take this into consideration – Today, we tell you how this is done. Mobile devices and tablets are chipping away at the dominance of desktop and laptop computers in e-commerce. From 2012 to 2013, website traffic by mobile devices increased ten percent. Considering that traditional devices lost 10 percent in online traffic shares within a single year, it is high time to adapt to these changed circumstances: Create creative concepts and suitable content.
Tablets Are Becoming More and More Important in E-Commerce
A recent study of the weeks between Thanksgiving and Christmas in the USA has found that the average e-commerce order value has increased by 14 percent compared to the previous year. Interestingly, there was a steep 14 percent increase in average order value via tablet. While it seems that users prefer smartphones for browsing and entertainment, they are more likely to place orders via tablets and traditional devices, with the former making big strides towards overtaking the latter.
What does this mean for B2C marketing? Well, besides responsive design there are many ways to optimize your marketing efforts. It is not only about looking great on every device, but also about providing relevant content for each device! Since tablets are becoming consumers' device of choice, marketers should provide a winning tablet experience.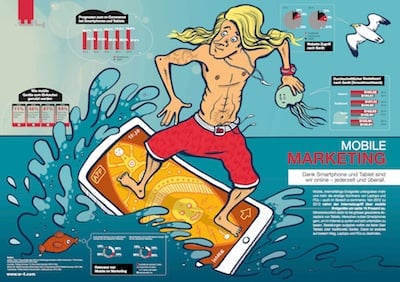 Download our colourful info-graphic here.
Tablets often stay at home – an indication that it has replaced traditional devices for online activities. Why? Because it is much more comfortable surfing the web with a tablet – on the sofa, in bed, wherever. Even though much of online shopping on tablets happens at home, there are some things to consider. Since tablets are on a path towards surpassing traditional devices in e-commerce, prioritize the table experience when creating an online shop. Moreover, operating a tablet is different from a desktop computer: a touch screen replaces key board and mouse. Think of creative ways to integrate this in order to create a positive tablet experience. If you have, for example, an online shop selling clothes, why not design a show room in which the customer can wipe through the clothes rack to replicate the real shopping experience? Another way to create added value is an app: inform your clients of special offers in real time with push notifications and design games that engage your customers. In short: Create content that tablet users will enjoy.
Create Content Relevant to Mobile Usage
While tablets often remain at home, smartphones are always with their users. The smartphone is less used for making purchases than tablets or traditional devices, yet there is great marketing potential that should be exploited. QR codes are a good way of providing customers with additional information and/or luring customers to your mobile optimized landing page. The smartphone's camera is used for scanning QR codes – and cameras are among the most-used features of mobile phones today. Visual content in general is very popular among smartphone users. Take advantage of this by providing them with short creative video clips or an own instagram account. Speaking of social networks: Twitter is practically made for mobile usage. Not only is Twitter great to inform customers, but it is also an opportunity to interact with them!
Apps are also great to keep customers informed – as long as they provide added value such as exclusive vouchers and discount notifications. Moreover, users make available a lot of personal data when using an app or accessing a mobile website. Use this data to fill your CRM sheets. Localized data is especially interesting as it gives you the perfect opportunity to make customers an offer exactly where and when they are able to take you up on it.
Enterprise Apps in Mobile B2B Marketing
Regardless of mobile web or native app, B2C or B2B: When a site needs more than three seconds to load, users will simply turn to your competition. Make sure clients and partners can access your website on any device with very little loading time!
In B2B, enterprise apps present a great way of improving communication with cooperating partners. Not only does a multimedia app modernize a company's image, but it brings added value to the table: Keep your partners and clients up to date in real time with a push notification service. Make the current stock price available to your investors, keep everyone informed with product information, make yourself accessible with support options and last but not least, open a dialogue between you and your clients, partners and investors. Configuration and reporting tools are a great services to provide and will be appreciated.
Apps can also be used to optimize working process in your sales department by improving interactions between sales managers and clients. A tablet app like Sales Buddy by W4 is a combination of tablet app and online platform and allows you to manage, distribute and update sales content centrally. This way all sales materials are always up-to-date. It is also great to optimize communication via push notifications – this is how you make sure everyone has the most relevant information in real time. The app also allows your sales personnel to use the tablet as a presentation tool and a way of customizing product catalogues. Mark a contact's favorite content to create a personalized product catalogue that can instantly be shared via online solutions such as SharePoint and Dropbox.
Our Offer
No matter if it is B2C or B2B – W4 knows mobile. We can create a mobile content marketing strategy tailored to your target group. From concept to technical aspects such as responsive design or app programming – get the full mobile marketing service from a single source.