In both the B2B and B2C sectors, service teams take on a central role as the communication interface between customers and the various departments of a company. They must meet the ever-increasing communication demands of prospects and customers. Thanks to intelligent software that allows you to scale your customer service, this is possible.
HOW CAN I LIGHTEN THE LOAD ON MY SERVICE TEAM?
In a nutshell: through automation. Modern helpdesk software is the ideal solution for bringing together requests from different channels in one tool, as well as automatically recording, tracking, and prioritizing support requests. For example, the requests can flow into a ticket system via a form, an e-mail, or a chat message and be automatically assigned to the responsible support employee.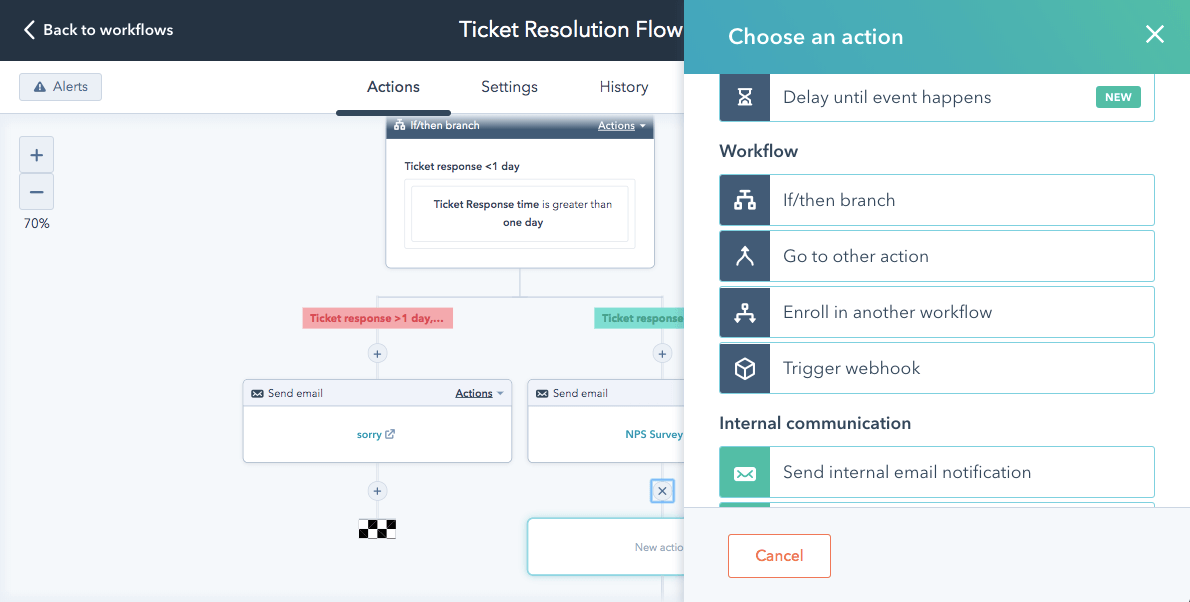 All the important data of the request is captured, minimizing manual input for your employees and freeing up more capacity to help customers directly. It also automatically captures user interactions with the company, service requests, product details, clicks in your knowledge base, and more. This helps you meet the customer's expectation of receiving an answer in minutes or even the solution already, if necessary. Another way to lighten the load on your service team is to offer (potential) customers the chance to help themselves, so-called self-services. A comprehensive knowledge database that answers frequently asked questions to the point is a super solution not only to provide customers with quick assistance but also to get a good positioning in search engines.
WHY DO I NEED A KNOWLEDGE BASE?
An FAQ page is no longer enough - customers expect more! It should be a comprehensive knowledge base with a clear structure. (Potential) customers need to be able to quickly find the relevant topic to their question and the detailed answer. With HubSpot's Service Hub, you can flexibly categorize the knowledge base articles, customize them according to your branding, and use a preview for different devices to check the responsive design. Thanks to the automatic indexing of your knowledge base articles, prospects will have an easy time finding self-service answers when they submit a search query via Google.
As mentioned earlier, a knowledge base also takes a huge load off your support team. Easy-to-answer questions can be handled quickly by a good knowledge base, allowing your service team to focus on critical inquiries.
SUPPORT YOUR SERVICE TEAM WITH FEEDBACK FUNCTIONS
An important task for service teams is gathering feedback to evaluate customer satisfaction and improve services. Surveys by phone are not very popular and provide biased results, e.g. due to politeness towards the questioner. You should therefore offer (potential) customers the opportunity to provide feedback on their own initiative. You can do this via online surveys that are integrated on your website, for example, or sent via e-mail. Nowadays, intelligent service software offers the creation of such surveys. Whether it is NPS (Net Promoter Score) surveys to determine customer loyalty over time, CES (Customer Effort Score) surveys to determine improvement potential of your customer service, or CSAT (Customer Satisfaction) surveys to determine customer satisfaction regarding individual interactions with your company: Data is critical to your customer retention management and an important foundation for your service team.
With HubSpot Service Hub, the collected data from various customer feedbacks converge into a dashboard to provide the entire service team with an overview of customer satisfaction. This allows you to quickly identify optimization opportunities, take action, and improve customer satisfaction.
Want to take your service and support team to the next level with intelligent software, ensure greater efficiency and optimize your customer retention management? If so, HubSpot's Service Hub is a smart platform that brings all the key features you need for professional support:
Helpdesk and ticket automation
Knowledge database
Live chat
Customer feedback surveys
Automation of the support process
Production of personalized video content
Reports dashboard
HubSpot CRM
and much more.
Do you have questions about Service Hub or service software and customer retention management in general? W4 will be happy to support you!