Maybe you do not hear about this interactive brochure on
WeChat
that often. But the WeChat H5 page is a marketing tool that all professional brands include in their campaign strategy. It is constantly evolving and small and large companies are competing to see who wins as the fanciest.
What is the WeChat H5 page?
The WeChat H5 page was developed based on HTML5, but it is not just that. It is a special way of displaying content on cell phones, more specifically on the WeChat app. H5 pages are like the small version of your website on a computer, they are a mix of a website and an app, so they have the advantages of both while offering more features than a traditional website.
Why is the WeChat H5 page special for your marketing?
Thanks to a team of experienced developers and graphic designers, WeChat H5 pages offer users a fun and personalized interactive experience. They give your brand more imagination in responsive design and allow users to interact more with your brand.
With WeChat, your business can:
Promote specific products, sales, or events.
Add music, videos, animations, or even mobile shake triggers.
Attract new customers thanks to constant interaction with pages
Launch campaigns in less time than with the WeChat mini-programs
Your brand will be remembered by users and in the best case they will become customers and ambassadors of your brand.
How to make a WeChat H5 page?
You have two options to create a WeChat H5 page:
Professional Interaction Class H5 pages:

they require a high level of developer skill to create, as they are fully customized and interactive. They can be expensive, but with a personalized H5 page, you can stand out from your competitors.

Template Assembly Class H5 pages:

these are pre-made WeChat H5 templates that are less expensive, easy to customize and edit, but less flexible. There are special tools for this purpose, such as Xiumi.
The Content and The Design of Your WeChat H5 Page
Your WeChat H5 brochure is a narrative of your brand and a good representation of your services and products, and it needs to grab the viewer's attention. How? There is no point in making a brochure with a lot of pages, the reader will soon get bored. Keep it a maximum of 10 pages, including all infographics, company information and contacts, and other creative details designed by the graphic designer. The role of the graphic designer is important here in the WeChat H5 brochure because the aesthetics will maintain the reader's attention. In this kind of format, the content itself is not as satisfying as animations, illustrations, images, and so on.The perfect WeChat H5 page is a combination between your brand's values and design and Chinese culture and trends in a unique way. So you need to be localized and break the label of "this is just another foreigner".
Have a look at W4 clients' WeChat H5 page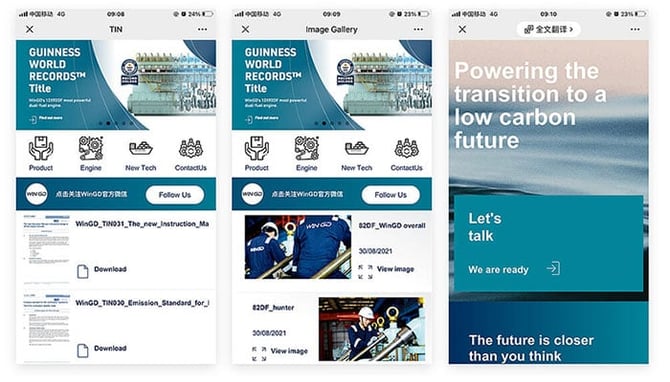 WinGD, screenshot was taken on 13.01.2023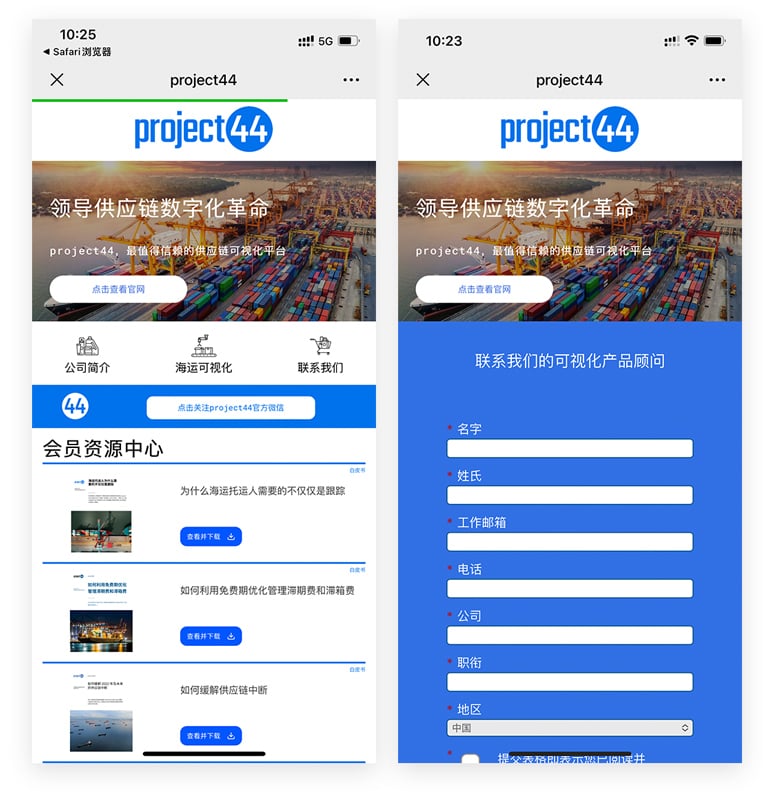 project44, screenshots were taken on the 13.01.2023
If you need assistance in creating your WeChat H5 page, do not hesitate to contact us. Our experienced developers will create a brochure that is creative and fun for you!