Mobile devices have become an integral part of our daily lives, and with the daily use of smartphones and tablets, mobile search has overtaken desktop search. Due to this change in consumer behaviour, it is important for businesses to focus their SEO strategies on mobile and ensure that their website is easily accessible and visible to users on mobile devices.
This article looks at the definition of mobile SEO, its importance, and methods to optimise for it.
Table of Content
What is Mobile SEO?
Mobile search engine optimization (SEO), is an important part of mobile marketing strategies and refers to the process of optimising a website's content, structure, and design to improve its visibility and ranking on search engine results pages (SERPs) for mobile users. Mobile SEO takes into account the unique characteristics of mobile devices, such as smaller screens, slower connections, and different browsing habits, to ensure that websites are accessible and user-friendly for mobile users. The goal of mobile SEO is to provide a seamless user experience, increase website traffic, and ultimately increase conversion rates and revenue for businesses.
Why is Mobile SEO important?
Nowadays, mobile devices are used massively. People are using their mobile devices to browse the Internet, and this trend is expected to continue. In fact, global users spend more than half of their online time on their cell phones. This huge mobile usage is responsible for more than half (59.16%) of global website traffic. Mobile e-commerce is growing, with 55.4% of internet users shopping online . This means that companies need to optimise their websites for mobile users to stay competitive.
Mobile SEO is not just about optimising for search engines, but also about improving user experience. Mobile users have different needs and behaviours than desktop users, and businesses that fail to meet those needs risk losing potential customers. Web designers, for example, admit that a non-responsive web design is one of the main reasons why visitors leave a website.
Google's mobile-first policy prioritises mobile search engine optimization for indexing on search engines. This means that Google's algorithm primarily uses the mobile version of a website for indexing and ranking purposes. Therefore, it is essential for websites to have a well-optimised mobile version to improve their visibility and ranking on search engines.
High ranking leads to higher visibility, more website visitors, and ultimately more revenue. 64% of SEO marketers confirm that mobile search engine optimization is an effective investment, as they may rank higher on SERPs, and also because users are more likely to switch to competitors' websites if they have a bad experience.

With so many websites vying for attention, companies that invest in mobile search optimization can gain a competitive advantage.
Best practices for seo: oPTIMISING YOUR WEBSITE FOR MOBILE DEVICES
Now that we are getting more and more into the topic, it's not enough to know what mobile SEO is and why you need to optimise your website for mobile devices. There are several methods to do SEO for mobile devices. SEO for mobile devices requires a combination of responsive design, mobile-friendly content, website speed, mobile-first indexing, user experience and local search optimization. By implementing these methods, businesses can improve their visibility, engagement, and conversions with mobile users. Let's have a look at the following 8 mobile SEO best practice:
Prioritise responsive website design
Responsive website design is a crucial aspect of mobile SEO. It involves creating a website that automatically adjusts its layout and content based on the screen size and orientation of the device. By implementing a responsive design, the website provides a seamless user experience, which is critical for ranking high in search results. A mobile-friendly website design not only improves user engagement but also helps search engines to crawl and index the pages efficiently.
Use mobile-friendly content
Creating mobile-friendly content is a key factor in mobile SEO. The content needs to be optimised for smaller screens, and the text should be easily readable without zooming in or scrolling excessively. Mobile users also prefer easily consumable content that loads quickly and is relevant to their search queries. Search engines prioritise websites that provide a positive user experience, and mobile-friendly content is a crucial aspect of that experience. Therefore, it is essential to ensure that the content is optimised for mobile devices to improve search engine rankings and attract more mobile traffic to the website.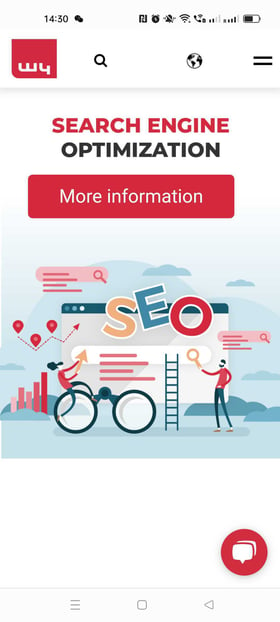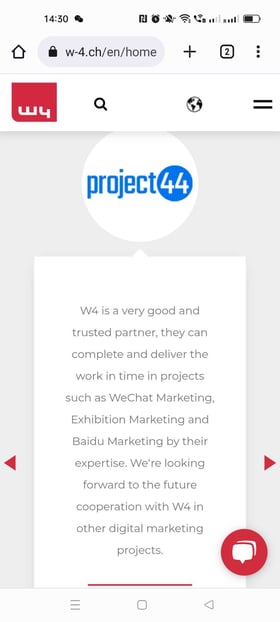 Our mobile-friendly content marketing solutions are designed to help businesses optimise their content for smaller screens and improve their visibility and ranking in mobile search results.
Optimise website speed
Mobile users expect fast-loading websites, so optimising website speed is essential for mobile SEO. Some best practices to improve website speed on mobile devices include optimising images, minifying code, and leveraging browser caching. A faster website not only provides a better user experience but also reduces bounce rates and increases the time users spend on the site. Additionally, search engines prioritise websites with fast loading times, which can lead to improved search rankings and increased organic traffic. Therefore, it is essential to optimise website speed for mobile devices to improve mobile SEO performance.
Optimise for local search
Mobile users often search for local businesses on the go. Some best practices for optimising for local search include creating a Google My Business profile, building local citations, and using location-specific keywords. Optimising for local search not only improves search engine rankings but also increases visibility to potential customers who are searching for local businesses or services. Mobile devices also use location data to provide personalised search results, making it even more important to optimise for local search to improve mobile SEO performance.
Use the same content on both desktop and mobile
To ensure optimal mobile SEO performance, it is important to have equivalent content on both desktop and mobile versions of a website. If the mobile site has less content than the desktop site, it can negatively impact the website's search engine rankings. Updating the mobile site to include the primary content of the desktop version and using a different design to enhance user experience, such as moving content into accordions or tabs, can be beneficial. Since most indexing on a website comes from the mobile site, it is crucial to ensure that the content is equivalent on both versions of the site.
Optimise for Voice Search
With the rise of virtual assistants like Siri, Alexa, and Google Assistant, optimizing for voice search has become essential for mobile SEO. Using natural language, long-tail keywords, and creating FAQ pages can help improve visibility in voice search results. It is also recommended to use structured data markup to help search engines understand the content and context of the website.
Optimise ads placement
While ads can provide a source of revenue, they can also negatively impact user experience on mobile devices if not placed strategically. It is important to ensure that ads do not interfere with the website's content and that they are not placed too close to important links or buttons. Using responsive ads that adjust to different screen sizes can also improve user experience on mobile devices. Additionally, it is recommended to avoid pop-up ads or interstitial ads that interrupt the user's browsing experience, as this can negatively impact the website's search engine rankings. By optimising ads placement, a website can provide a seamless user experience on mobile devices, which can positively impact mobile SEO performance.
Use correct link elements
To ensure that search engines properly index your website for mobile-first indexing, it is essential to use the correct link elements between the mobile and desktop versions of your website. Using the rel=canonical and rel=alternate link elements correctly can help to prevent duplicate content issues and ensure that the desktop version is always the canonical URL while the mobile version is the alternate URL. This helps to prevent confusion for search engines and ensures that the correct version of the website is indexed. By using the correct link elements, a website can improve its mobile SEO performance and enhance its visibility in mobile search results.
Tools to help you boost your mobile seo
Mobile SEO tools are used to analyse and improve the visibility and performance of a website in search engines. Using these tools, companies can identify areas for improvement and make the necessary changes to improve their mobile SEO strategy. Based on insights provided by these tools, businesses can make data-driven decisions and improve their mobile website's visibility and performance in the SERPS. By analysing search queries and user behaviour, SEO tools can help identify the most relevant and engaging content that appeals to your brand's target audience, allowing you to optimise your content strategy accordingly. With the help of SEO tools, you can gain a deeper understanding of your target audience and create content that meets their needs.

Here are some of the most common mobile SEO tools:


While mobile SEO tools can be helpful for optimising your mobile website, it's important to keep in mind that SEO is a constantly evolving field that requires a high level of expertise. As a result, it may be more beneficial for companies to focus on scaling their business and entrust their SEO tasks to specialists who can develop and execute a mobile SEO strategy tailored to their specific goals and needs. Working with SEO specialists can help maximise your mobile traffic potential and ensure that your mobile website is optimised to its fullest potential.
W4 Service: SEO for Mobile Devices
Our SEO specialist can help you achieve top-level mobile optimisation and ensure your website stands out in search results on both mobile, and desktop searches. Our team of Superhero SEO specialists have extensive experience in search engine optimization, with a combined total of over 20 years. We understand the importance of tailoring our strategies to meet the specific needs of your business, and our workflow provides transparency into the development of these strategies.

W4 can help you achieve the highest level of optimization for your mobile website, including mobile SEO marketing. We developed the Superhero SEO Specialists program to offer you full-time, uninterrupted access to the best SEO expert and strategies you can find in the industry. Hence our Superhero SEO Specialists provide one-on-one attention to each client, conducting analysis and implementing proven strategies to improve your business. At W4, we understand that every business has unique goals and challenges, but you can rest assured that they have the powers and expertise to elevate your online presence to new heights.
How to measure your Mobile SEO performance
Once you have implemented your mobile search optimization strategy, it's time to measure mobile SEO performance with your mobile SEO tools. This is an important step in SEO for mobile websites.
Here are some important metrics to keep in mind when measuring mobile SEO performance:
Mobile Traffic: it is important to track the amount of mobile traffic on a website to understand how many visitors are coming from mobile devices.
Mobile bounce rate: bounce rate measures the percentage of visitors who leave a website after viewing only one page. Tracking mobile bounce rate can help companies identify usability or mobile website content issues.
Website speed: mobile users often have slower connections, so measuring website speed on mobile devices is critical.
Visibility in mobile search engines: tracking keyword rankings in mobile search engines can help businesses understand how well their website is performing in mobile search results.
Mobile user engagement: tracking mobile user engagement metrics, such as time spent on the site and number of pages per session, can help businesses understand how users are interacting with their site on mobile devices.
Mobile conversions: tracking mobile conversions, such as form submissions or purchases, can help businesses understand how well their website is converting mobile traffic into leads or sales.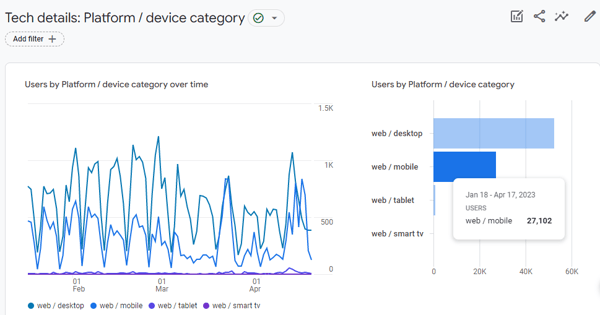 By tracking these metrics, companies can identify areas for improvement and make the necessary changes to do for their mobile website.
Common Mobile SEO Mistakes to avoid
First, even though we sound repetitive, marketers usually forget to consider mobile users in their marketing strategy or when building the website. Mobile users should be the priority of the project and all kinds of strategies should adapt to them.

One common mistake in mobile SEO is not redirecting mobile users to an equivalent page or a different URL when the content provided for desktop users does not work on mobile devices. If a website provides desktop content that is not compatible with mobile devices, and a mobile user tries to access that content with the same URL as the desktop version, it may result in a 404 error page. When mobile user encounters a 404 error page, they may give up trying to navigate the website, leading to a negative user experience and potentially lost business for the website owner. To avoid this issue, it is important to ensure that all content on your website is mobile-friendly and that mobile users are redirected to appropriate pages or URLs.

This may be upsetting for marketers, but using interstitials is one of the most common mobile SEO mistakes companies make on their websites. Interstitials are interactive pages or pop-ups on a website. When done right, interstitials are an effective marketing tactic but can have a negative impact on the user experience when they interrupt the visitor's path through the site. The same goes for displaying ads on mobile devices. For example, ads at the top of the page cover too much of the mobile screen, resulting in a poor user experience.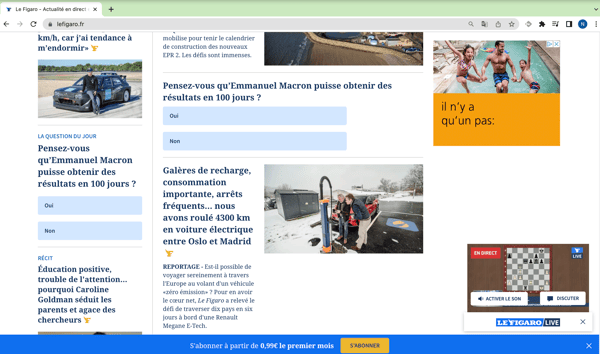 French Journal "Le Figaro" Desktop Version
French Journal "Le Figaro" Mobile Version
Another aspect that is usually overlooked when creating landing pages or web pages is using images that are too large in file size, which can slow down page load times and negatively impact user experience. Mobile devices often have limited bandwidth and slower internet connections compared to desktop computers, so it's important to optimise images for mobile by compressing them without compromising their quality. Another mistake is not using responsive design to ensure that images and other visual elements are properly scaled and displayed on different screen sizes and orientations. It's important to design with mobile users in mind and test your website or app on various devices to ensure optimal viewing experience.
The future of Mobile SEO
The future of mobile search engine optimization will likely evolve as mobile technology advances and user behaviour changes. By staying ahead of these trends and adapting their mobile search engine optimization strategy accordingly, companies can maintain or improve their visibility in search engines and reach their target audience on mobile devices.
One of the future trends already in use is the importance of mobile-first indexing. Google uses the mobile version of a website for indexing and ranking in search results, so business need to concentrate their efforts on mobile website seo even more to maintain or improve their search engine visibility
Voice search and visual search are the latest developments in digital technology. Virtual assistants such as Siri, Alexa and Google Assistant are already commonly used by all mobile users. Moreover, more and more e-commerce companies are turning to the new e-commerce technology to attract more customers. Visual search in e-commerce has already proven to be an effective tool to improve the customer experience and increase sales.
Last but not least, AI (Artificial Intelligence) is increasingly becoming the future of mobile SEO because it has the potential to revolutionise the way we optimise for search engines. With the rise of voice search and natural language queries, AI-powered tools can analyse user intent and behaviour to provide more personalised and relevant search results.
Conclusion
In summary, mobile search engine optimization is an important aspect of digital marketing that businesses cannot ignore. Given the increasing importance of mobile devices in our daily lives, optimising a website for mobile devices is essential to improve search engine visibility and reach a wider audience. By avoiding common mobile SEO mistakes and implementing best practices for mobile SEO, businesses can increase mobile usability and improve search engine rankings.
W4 understands the importance of mobile SEO for businesses and offers comprehensive mobile SEO services to help businesses with SEO for their mobile website. Our team of experts has extensive experience in mobile search engine optimization and can help businesses design mobile-friendly websites, optimise mobile website speed, and optimise mobile content. With our mobile SEO services, businesses can improve their search engine visibility and reach their target audience on mobile devices. Contact us today to learn more about how we can help your business with mobile SEO services.