More and more companies are turning to digital or virtual events to offer their prospects and customers exciting experiences worldwide. In times of globalization, this is a must for many companies! But even companies that focus on one country have recognized the almost inevitable trend towards "virtual events" or digital events.
What you need to organize a great digital event
The basis of a good event is usually a landing page, where the event is presented, if necessary, with its agenda, people organizing it, and possible benefits for participants. This page contains a form to register online for the event. To generate as much traffic as possible on this landing page, personalized invitations can be sent via email to existing leads or to customers. Other traffic sources ads can be placed via social media channels.
After filling out the form, prospects should receive a personalized confirmation of registration via email. This must contain all relevant information such as date, time, contact person, and access data for participation in the online event. Furthermore, it is recommended to send a reminder email to the registered leads shortly before the start of the event in order to attract as many participants as possible. A personal thank-you email for participation after the event, possibly with a short summary of the event highlights or most important information, is good form. In this course, further content can be offered to bind leads or customers more firmly.
Components at a glance:
Attractive landing page with registration form
Email communication around the event (confirmation, reminder, thank you)
Integration of a calendar tool
Integration of a webinar or video conference tool
Workflows for setting up a fully automated campaign


International events – HubSpot Marketing Automation
With the marketing automation platform (incl. content management system and customer relationship management), setting up a digital event with a fully automated campaign design is quite straightforward. Thanks to many integration options, you can link your existing systems with HubSpot and manage the entire setup in one tool. The email invitations can include a personal address and the personal contact person, among other things, via personalization tokens. This can be implemented very simply via Smart Content. Creating contact lists and assigning them to contact owners is a snap-in HubSpot. If you want to invite prospects from different countries and time zones, you can set up time zone-specific emailing. Contacts receive the time zone property via the form during registration. According to the selected country of origin or time zone, you can create the email communication via workflows in HubSpot and send the participants your time zone-specific access via email. Additionally, it is possible to offer an ICS link so that users can download the appointment and save it directly to their personal calendars. This is how you create a personalized, fully automated, internationally targeted campaign for your online event.
Example workflow: From the landing page to the right event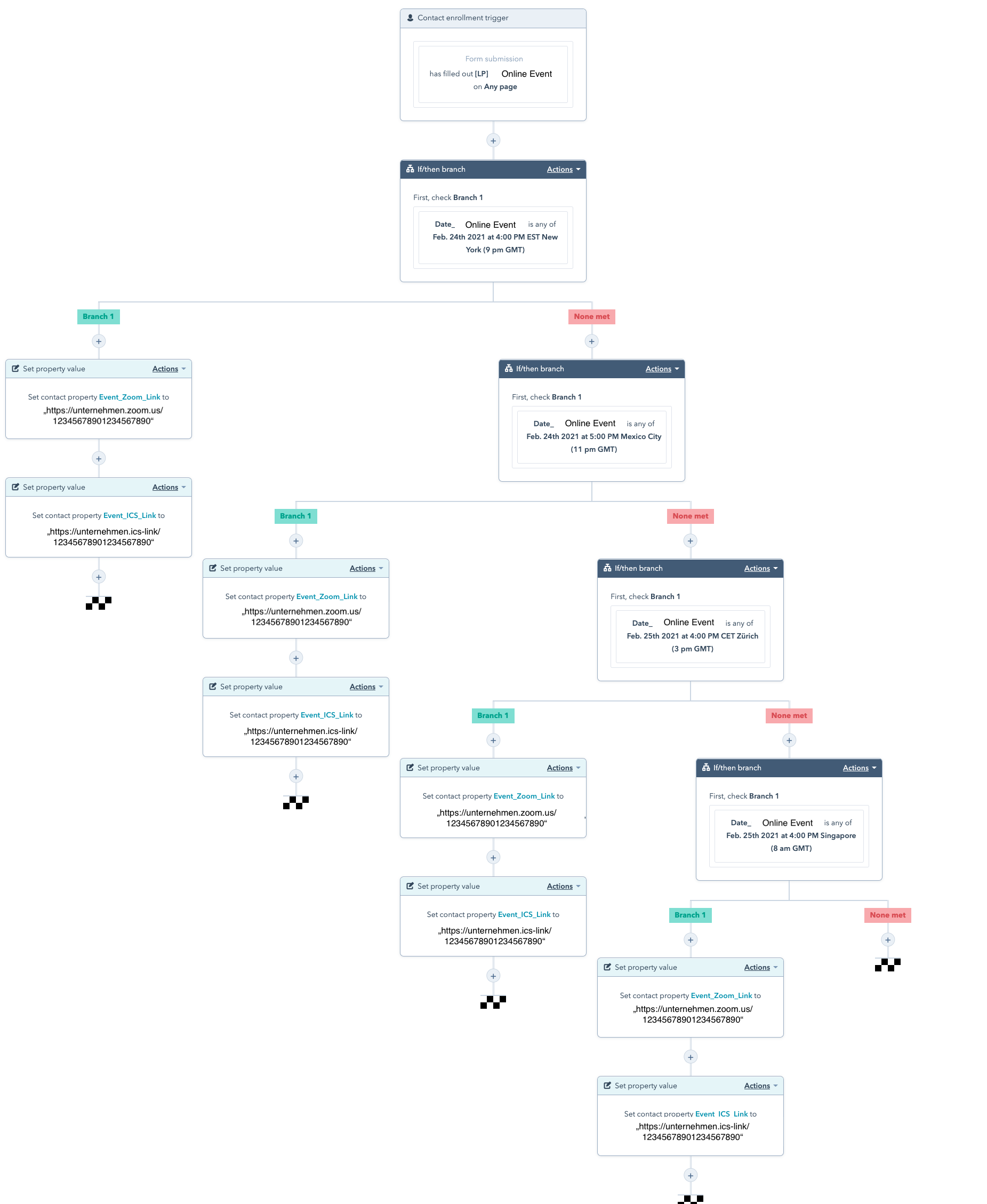 If you want to run social media ads for your campaign, you can also manage them via HubSpot.
As a HubSpot Platinum Partner, W4 is happy to support you with the setup of your digital event.
Examples for HubSpot Integrations
CRM-Tools like Salesforce, Freshdesk, Odoo, SalesBenefits, QuarterOne, SSIS Integration Toolkit, etc.
Video Conference Tools like GoToWebinar, Zoom, ClickMeeting Webinars, WebinarGeek, etc.
Calendar-Tools like Calendly, Google Calendar, Outlook Calendar, Setmore, Arrangr, Zoom Meeting Assistant, etc.
CMS-Tools like Canva, Beacon, StoryChief, Atomic Al, Wix App, Ceros, etc.
All HubSpot Integrations