Would your sales team contact a lead if they only had the lead's name and e-mail address? Probably not! Instead, they would ask your marketing team to get more data. But how do you know when a lead is ready for a sales pitch? Lead scoring models will do that for you! Lead scoring assesses a lead's disposition to buy using a points system on the basis of demographic data and digital body language (online behavior).
E-mail address, name, yearly sales, number of employees and industry are demographic data valuable to the lead scoring process. Digital body language describes a user's online behavior, such as which websites they visited or which e-mails they read.
Lead scoring step by step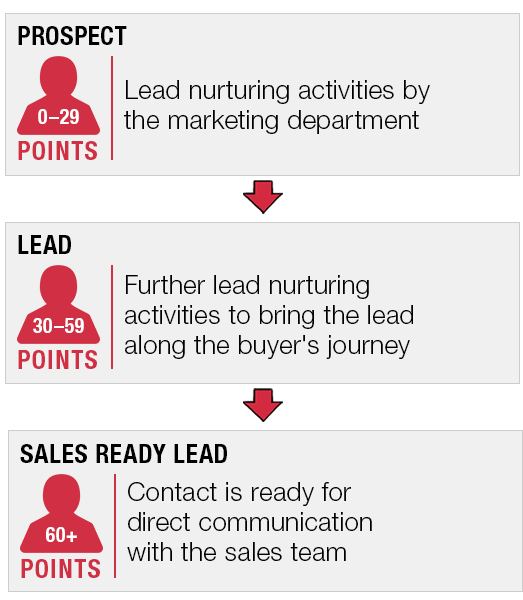 Scoring individual actions
We have compiled a couple of examples to help you assess your contacts' interactions. Consider that these are just examples and by no means written in stone. Feel free to adapt these examples to your individual needs:
Opened e-mail: 1 point
Visited landing page: 3 points
Position in the company: 3 – 5 points
Completed form: 5 points
Looked at product page: 5 points
Download white paper: 10 points
On some contact forms, you ask people to choose one out of many options. Make sure you score those options individually. When asking for the position in a company, consider that a contact who is just an assistant scores less than a manager. The same applies to digital body language. Visiting a product page is worth much more than a click on your company's "about us"-page. Furthermore, it is important that both sales and marketing departments are on the same page with regard to when they consider a lead ready.
Lead nurturing: better sales opportunities with more data
Not every lead is like the other. Some are ready to make a purchase sooner than others. This is why it is the responsibility of your sales and marketing teams to determine whether a lead is is ready or not. If the lead is not ready, continue with the nurturing process to receive more valuable data.
Lead scoring improves the quality of individual leads and increase your marketing and sales performance, which in turn will take your revenue to new heights.