The retail landscape is rapidly evolving every day, and businesses need to implement effective marketing strategies to make their business a success. Technology is playing a crucial role in reshaping consumer behaviour and consequently competition is also intensifying. In this scenario, retailers need to stay ahead of the curve and relevant among their competitors.
In this article, we present 7 innovative retail marketing strategies to improve customer engagement, increase sales and build brand loyalty. From leveraging data-driven insights to the latest trends in omnichannel marketing, discover how retailers can adapt and succeed in the digital age.
Download our free flyer to get an insight into our top 7 options for your next retail marketing strategy right now!
Table of Content
1. Omnichannel Presence
In these digital times, establishing a robust omnichannel presence has become pivotal for retail businesses, so it is no coincidence that this strategy is at the top of our list.
Omnichannel marketing is the kind of strategy that is all about creating a seamless and integrated shopping experience for customers across multiple channels, be it physical shops, e-commerce websites, mobile apps or social media platforms. Every business has their own way of using this strategy, but what it all boils down to is that your brand is available on all channels, so your customers can interact with it at any time. This not only increases your brand awareness, but also customer loyalty and sales.
Case Study: Sephora
The example of Sephora makes it easy to see how they have mastered this strategy. The online presence and in-store experience are well known to customers. On one hand, there is the retail shop where professional sales staff give beauty tips, offer free makeovers and try products. On the other hand, Sephora's online channels allow customers to have their own online beauty bag, watch tutorials, create wish lists, receive suggestions for personalised items, be part of a community and much more. Thanks to this attention to customer engagement and the fact that they are always where their customers need them, the company has steadily increased its sales.
Screenshot of Sephora's community section
2. In-Store Engagement
A retail shop is not simply a product display. Retailers need to transform their physical shops into experiential spaces where customers can engage with the brand on a deeper level. Interactive displays, product demonstrations, or 3D visualisations, events, workshops, and loyalty programmes are among the tactics that create lasting memories, encourage longer visits and promote positive word of mouth. Enhancing the shopping experience, driving brand loyalty and increasing sales are key objectives of in-store engagement strategies.
Case Study: Apple Store
As minimalist as much of this may be, Apple has done a great job with their in-store retail marketing. They put customer interaction with their products above aesthetics. The more they try the products, the more willing they are to buy them. Apple stores also offer community spaces where customers can watch a demo, take a class and more.
3. Gamification as a Retail Marketing Strategy
Gamification offers a compelling solution for retail marketing by tapping into the innate human desire for challenge, achievement, and reward.
Gamification is a recognised and effective retail marketing strategy that takes the shopping experience to the next level. At its core, gamification is about incorporating game elements, mechanics, and principles into non-game contexts, such as retail. It is a creative approach that engages customers, creates excitement and encourages specific behaviours, whether shopping, interacting with products or sharing content.

How Gamification can change your Retail Marketing
The use of gamification can be a decisive factor for companies that want to stay one step ahead of the competition. Our gamification solution can take your retail marketing to the next level:
Captivating experiences: By incorporating gamified elements, competitions and rewards into the shopping journey, retailers can make the shopping experience more engaging and enjoyable. Interactive games, quizzes or challenges can be integrated into mobile apps, websites or shop displays to engage and entertain customers while they shop.
Encouraging interaction: Gamification encourages customers to interact with products and services in new ways. This not only increases engagement, but also helps in decision-making.
Building brand loyalty: Loyalty programmes with gamification elements such as point systems, badges and exclusive rewards keep customers coming back.
Generate social buzz: Gamification can drive customers to share their experiences on social media, generating user-generated content and word-of-mouth. Challenges, competitions and incentives to share on social media can turn customers into brand advocates and increase a retailer's reach and visibility.
Data-driven insights: Gamification provides valuable data on customer behaviour and preferences. Retailers can gain insights into which games or challenges resonate best with their audience. This allows them to refine their marketing strategies and tailor their offers to customers' needs.
Enhanced learning: Gamification is an effective tool to educate customers about products, features and benefits. Interactive tutorials or quizzes can make learning fun and memorable and help customers make informed purchasing decisions.
W4 Gamification Service: Online Advent Calendar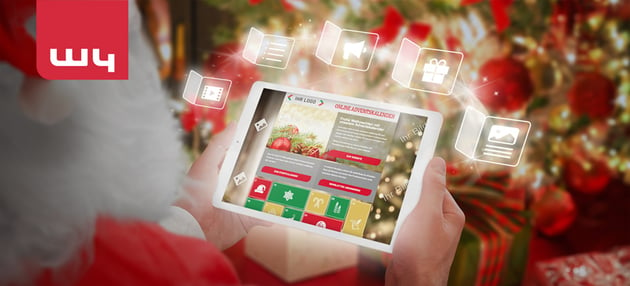 Integrating our W4 Digital Advent Calendar into your strategy for the Christmas season offers a multitude of benefits, all of which contribute to a highly successful outcome.
Firstly, it significantly increases customer loyalty. The interactive nature of the calendar entices your customers to visit your online platform daily and look forward to surprises and special offers. This not only leads to more traffic to the website, but also to customers staying longer and thus becoming more loyal to the brand.
In addition, the gamification campaign leads to a significant boost in sales during the Christmas season. Daily offers and incentives within the advent calendar motivate customers to buy, which leads to a remarkable growth in sales during the Christmas season. At the same time, your company's reputation as a customer-oriented retailer experiences a significant upgrade.
4. Personalised Recommendation with Email Marketing
Using customer data to offer tailored product suggestions is an important retail marketing strategy that greatly enhances the shopping experience. This approach not only appeals to customers, but also encourages them to discover products and make purchases that match their preferences.
Newsletter marketing is the protagonist of this strategy. It remains one of the most effective methods to increase ROI. Retailers use customer data, including purchase history and browsing behaviour, to personalise their newsletters. By segmenting their email lists, they can send targeted newsletters with products and special offers specific to each recipient's preferences and deliver these tailored recommendations directly to the customer's inbox. This seamless integration of personalised recommendations in newsletters enriches the customer journey and leads to higher customer engagement and conversion rates, making it an important part of successful retail marketing campaigns. For instance, an online clothing shop can suggest outfits based on a customer's style and past choices, or target customers who have not bought from them in a while with special offers or giveaways.
5. Social Media Engagement
We live in a world driven by social media. This is a fact, and every business needs to harness the power of social media to improve their strategies and revenues. Social media engagement represents a transformative approach to retail marketing, using the platforms for:
Direct connection with customers: Social media drives real-time engagement, trust, and brand loyalty by enabling direct communication with customers.
Share engaging content: It is a treasure trove for showcasing products through captivating visuals and promotes organic growth through shareable content.

Precision in advertising campaigns:

Targeted advertising campaigns on social platforms reach the right audience based on demographics, interests and previous interactions.
Building brand identity: Consistent branding and messaging across all social channels creates a recognisable and emotionally engaging brand image.
Promotions and competitions: Social media is an ideal place for engaging promotions and competitions that increase reach through user participation.
Real-time insights: Social media provides real-time customer insights that help in product development, marketing and service improvement.
Study Case: Dove
Social media engagement is essential for retailers who want to succeed in the modern marketplace. An excellent example of a brand that successfully used social media is Dove. Since 2004, even with some criticism, on social media they've been launching the campaign Real Beauty highlights the importance of women's acceptance of their own bodies, skin and appearance. Recent examples are the campaigns #DoveSelfEsteemProject and #FatLiberation campaign to let all girls and women brace their own beauty without shame.

Screenshot of Dove's Instagram Profile
6. Collaboration with Influencer
Nowadays, reviews and content from influencers have more marketing power compared to traditional methods, because users trust more people they follow and see everyday on their screen, so they know them and like them and consequently trust their opinion. This is the reason why influencer collaboration is today one of the main retail marketing strategies. It entails partnering with influential figures to promote products on whatever platform and social and gain credibility with their dedicated followers. Having as your partner an influencer you can easily increase your brand awareness, web traffic and ultimately sales.
Case Study: Audible
Collaboration with influencers is not limited to the big brands. Adidas and Nike are just two of the big brands that use this type of retail marketing. Small platforms and businesses can also harness the influence of content creators to connect with a niche audience, drive engagement and increase sales.
Audible, for example, an Amazon-powered platform for audiobooks and podcasts, has recognised the potential of influencer marketing. By working with YouTube influencers, such as Dylan is In Trouble, a Youtuber making commentary videos on movies, they have reached a large and engaged audience with just one video, resulting in an increase in Audible brand visibility and user engagement. The influencers' genuine sponsorship and tailored content resonated well with their followers and led to an increase in subscriptions and audiobook downloads.
Screenshot of one of the Audible sponsored video
7. Mobiles Marketing
Mobile marketing cannot be missing from our list for your next strategy. It is the key strategy to retaining customers and increasing sales.The main focus of this strategy is the use of QR codes, which have become increasingly popular due to their versatility and convenience.
QR codes can store a variety of information, such as website links, contact information and product information. In the context of retail marketing, they fulfil several important functions:
Contactless shopping experience: Customers can scan a QR code displayed on a product or in-store signage to access detailed product information, prices and reviews.
Mobile payment: Customers can use mobile payment apps to scan QR codes at the checkout, simplifying the payment process and reducing the need for cash or cards.
In-store promotions: Scanning a code can unlock special offers or access to loyalty programmes, providing a sense of exclusivity that encourages new purchases.
Augmented Reality (AR) Experiences: QR Codes can be linked to AR experiences where scanning a code shows interactive and immersive content linked to products. This makes the shopping experience even more exciting and can increase customer loyalty.
Digital catalogues: Customers can see a wider range of products and variants than in shops. This widens the product selection and increases the likelihood of upselling.
Study Case: L'Oréal Paris
An exemplary case is the use of QR codes in the mobile app and on the website of L'Oréal Paris. Customers can virtually try on the products before buying them. This improves the buying experience and encourages the customer to buy more products in the future.
Screenshot of L'Oréal Paris try-on
Bonus: 3D Visualisation Marketing Strategy
We've decided to offer you a compelling bonus strategy to consider for your next promotion: 3D visualisation marketing. This innovative approach allows customers to engage with products in a virtual environment, giving them the unique opportunity to explore every angle of the items they want. The advantage of 3D visualisation is that it enables customers to make an informed buying decision. The lifelike representation of products minimises uncertainty and enhances the overall shopping experience.
Incorporating 3D visualisation into your retail marketing strategies has the potential to be a game changer. You bring your products to life in the digital world, creating an interactive and immersive shopping experience that appeals to your customers.
W4 Case Study: Nobel Biocare - Product Photography
This client case is an example of the transformative power of a 3D visualisation image. Thanks to the impeccable, high-resolution quality and a range of views from different angles, customers can make informed purchasing decisions, which significantly strengthens trust in the brand and increases its professionalism.
One picture of Nobel Biocare project
At W4, we understand the importance of staying ahead of the curve in this dynamic industry. Your success is our priority, and we are here to support you every step of the way on your retail marketing journey. Our team of experts will help you choose the right strategies based on your business goals. But we go beyond just consulting. We can help you set up and effectively manage the strategies you choose. Our goal is not only to help you get started, but also to optimise and continuously improve your campaigns for maximum impact.