Thanks to digitalisation and the development of new technologies and software, there are a multitude of applications and tools that contribute significantly to the optimisation of business processes – Odoo apps are definitely one of them. The crucial point here is that the tools must be as extensible as possible in order to be able to adapt to the rapidly progressing developments and demands of the users. "App", short for "application", is the key word that opens up a multitude of possibilities. The popular business management software Odoo, as a suite of open source business applications, enables a wide range of integrations.Odoo's versatility and adaptability make it the ideal solution for businesses of all sizes – from CRM to e-commerce to accounting. Our many years of experience and developer work in connection with the Odoo apps have shown that Odoo has a solution ready for almost every problem in business processes. Here is a first impression of the variety of Odoo apps: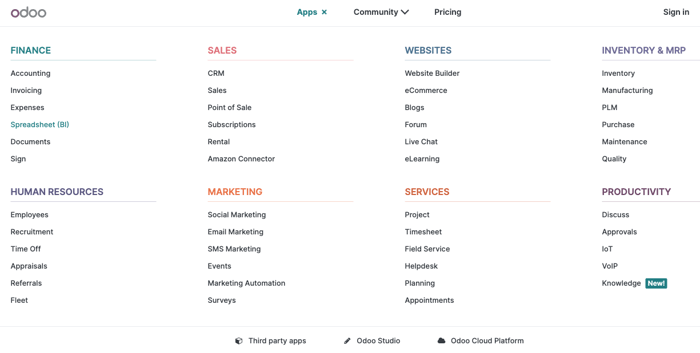 Screenshot: Odoo.com
Sometimes the third-party apps can also provide a solution to your business-specific problem.
W4 presents 7 Odoo apps that support your company in achieving your business goals through process optimisation.

With business management software comes the handling of sensitive customer data. Data security and protection are therefore important aspects that must be taken into account. In our webinar "Don't panic: Let's talk about data protection", we provide information on current guidelines and give useful tips on data protection: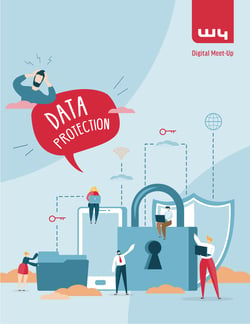 Table of content
WHAT ADVANTAGES DO ODOO APPS OFFER?
Odoo can be integrated with a wide range of apps. The apps enable an extremely scalable, flexible and user-friendly extension of Odoo, for example, to automate business processes, increase efficiency in various company areas and reduce costs. The apps can be adapted to specific company needs and thus optimise business processes in a targeted manner. They are integrated on one platform, which enormously simplifies data exchange between different departments and improves data consistency. Information flows seamlessly from one app to another. The choice of the appropriate Odoo apps depends on the specific requirements of the company. Third-party apps can also offer a suitable solution. These can usually be integrated well. The teams at W4 also use Odoo for their project management and for quotation and invoicing, among other things. We were able to achieve a significant increase in efficiency and reduce our error rate by implementing Odoo.
ODOO CRM: FOR EFFECTIVE CUSTOMER RELATIONSHIP MANAGEMENT
Insights into Odoo CRM and its variety of functions
The Odoo CRM (Customer Relationship Management) is the heart of the platform and offers a performant management of customer relationships by bundling all relevant information and interactions with customers in one place. It offers a wide range of functions, including...
the automation of sales processes,
the management of customer communications,
easy report generation,
real-time overviews,
accurate forecasting for informed decision-making,
comprehensive lead management,
activity and call management,
pipeline management
the collection of customer feedback
and much more.
Example: Marketing automation with Odoo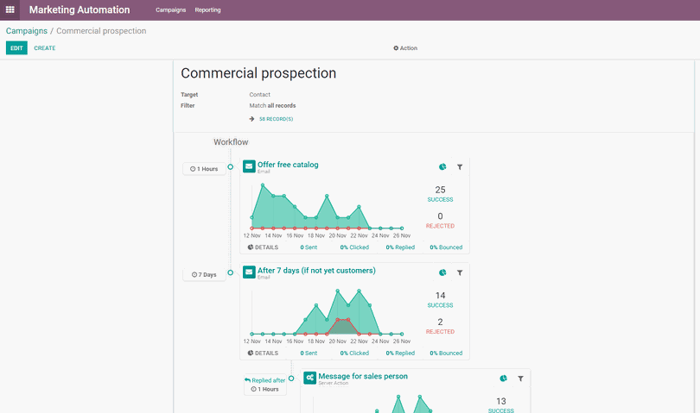 Image source: Odoo.com
The Odoo CRM enables the creation and consolidation of meaningful data so that companies have a consistent and comprehensive data basis for optimal business decisions. Due to the large number of possible integrations, many other attractive functions are available. Another plus point: Odoo CRM's user interface is user-friendly and intuitive, which makes it easier for employees to accept and familiarise themselves with the system.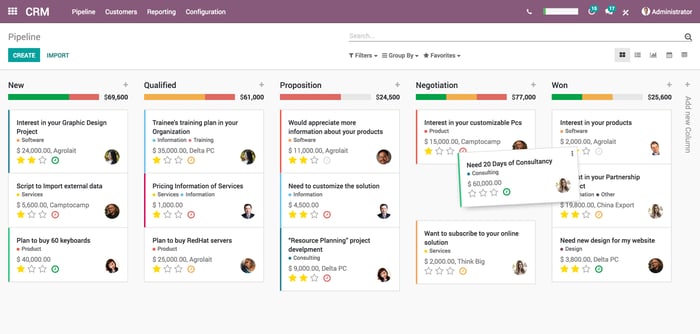 Image source: Odoo.com
Advantages of Odoo CRM for improved customer relationship management
In our fast-paced, digital age, (potential) customers expect quick and accurate responses to enquiries and consistent communication with a company without having to re-submit or explain the enquiry in every department. A CRM that always provides the latest customer information across departments is essential for companies striving for excellent customer service and efficient work processes. The high-performance Odoo CRM is an essential tool for making customer relationships more effective through seamless and, if necessary, cross-departmental interaction. In this way, the high expectations and needs of prospects and customers can be met.

In addition, the Odoo CRM automates sales and marketing processes, which is also accompanied by a significant increase in efficiency. It is highly customisable, for example through user-defined fields, workflows and reports. The CRM enables an almost 360-degree customer view through the comprehensive collection and clear management of customer data. The powerful reporting tools contribute significantly to this. Thanks to them, sales performance, the success of individual sales campaigns and other key metrics can be tracked. This comprehensive, complete and consistent data base enables promising decisions to be made to strengthen the customer relationship.
ODOO PROJECT MANAGEMENT: INCREASING EFFICIENCY AND PRODUCTIVITY
Potentials of project management with Odoo
With Odoo Project Management, you have a central point of contact that provides transparency about the status and progress of various projects. This enables different teams to organise their work efficiently and drive projects forward in a targeted manner. The software offers a wide range of features, including task and milestone management, project time tracking, work item management and document management. Teams can be organised across projects - naturally taking into account the different working hours and holidays of employees. In the process, upcoming projects can be planned more accurately in advance thanks to intelligent forecasts based on comparable projects.
Efficient organisation and management of projects with Odoo Project Management
Odoo Project Management is more than just a tool - it is a comprehensive solution that supports companies in planning and managing their projects efficiently. Especially for agile project management, Odoo is virtually predestined. It offers a customised Kanban overview of individual projects to clearly illustrate the current status and progress of a project. Individual project phases can be defined and tasks and subtasks can be assigned to teams. In addition, detailed time recording and tracking as well as clear resource planning and budget tracking is possible with Odoo Project Management. Various communication functions such as the chatter, a shared real-time notepad or the live chat optimise the communication and cooperation of the teams. Short notes or files can also be added to a task. In short: Tasks and projects can be effectively created, planned, assigned and managed with Odoo Projects.
ODOO FINANCES: NEXT LEVEL FINANCE AND ACCOUNTING PROCESSES
Advantages of Odoo Finance
Odoo Finance is a true all-rounder tool: it supports all major accounting functions, including bookkeeping, invoicing, accounts payable and receivable, bank reconciliation and more. Odoo Finance offers a range of features including:
Accounting: Simplifies business record keeping and helps maintain accounting standards.
Tax and Compliance Management: Assists with tax compliance and regulatory requirements.
Payment Processing: Simplifies the processing of incoming and outgoing payments.
Invoicing: Automates the invoicing process to ensure timely and accurate invoices.
Expense report
Spreadsheet (BI)
Document Management
E-signature and more.
Odoo Finance: Automation and simplification of financial processes
Odoo Finance streamlines accounting and financial processes. In the process, the automation of many recurring accounting processes is possible - this saves time and reduces errors. For example, the application automatically suggests emails, letters and tasks, facilitating processes such as dunning procedures. Accurate financial reports and analyses are also created quickly and easily through automation. In addition, the application takes tax regulations into account and simplifies tax compliance as well as complete tax and compliance management. In short: Odoo Finance offers a wide range of attractive functions to simplify financial processes enormously and make them more efficient - automation plays a decisive role here.
ODOO PURCHASING: FOR OPTIMAL ORDERING AND DELIVERY PROCESSES
The diverse functions of Odoo Purchases
With Odoo Purchases, the ordering and delivery process can be decisively optimised thanks to automation. The performance of warehouse management with procurement rules that depend on stock data, forecast production orders, etc., for example, can improve significantly with Odoo. With the app, orders can be processed quickly and efficiently, thus reducing costs at the same time. Odoo Purchasing offers a range of attractive functions:
Order automation: Simplifies ordering by replacing manual processes with automated ones.
Supplier management: Supplier information is clearly displayed and organised, enabling fast, effective communication.
Inventory tracking: One is always fully informed about the current stock. This avoids over- or under-ordering.
Procurement: Odoo Purchasing supports efficient and accurate procurement.
Product editing: All product information can be easily created and edited (product variants, procurement rules, search filters, unit of measure, check stock and availability, create terms of sale and much more).
Reporting: The app allows for detailed reports (predefined or customised dashboards) to gain full insight into procurement processes. Inventory forecasts are also available for optimal planning.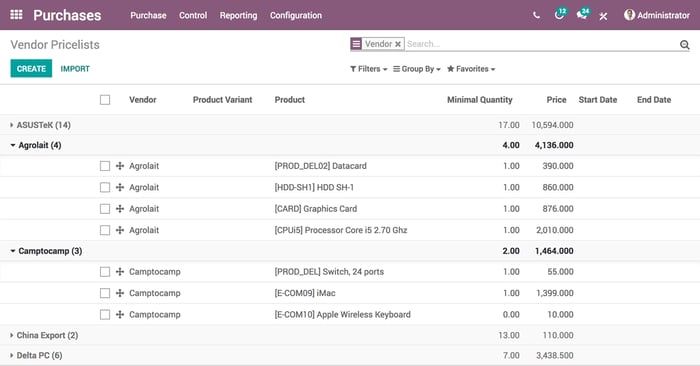 Image source: Odoo.com
Manage suppliers and orders more easily with Odoo Purchase
Companies can benefit enormously from automating their ordering and delivery processes with the Odoo purchasing app. By simplifying steps and tracking orders and deliveries in real time, procurement costs can be reduced and supplier management improved. In this way, companies can free up important resources that can be used elsewhere to grow the business.
ODOO Inventory: HOW MODERN WAREHOUSE MANAGEMENT WORKS TODAY
Odoo inventory management offers many smart functions
Odoo Inventory Management is THE reliable software to keep a full overview of the inventory and to run a professional warehouse management. It always provides the current status, registers all stock changes in real time and thus enables orders to be processed quickly and efficiently. Here are the key features that make this software an indispensable tool for businesses:
intelligent inventory management system (e.g. stock management with duplicate entries, stock tracking)
automated stock replenishment (order points and automated price requests)
full traceability (easy tracking of lot and serial numbers - across locations)
Real-time dynamic reporting for informed business decisions e.g. customisable dashboards
customised notifications, intelligent scheduler
Customer portal
Storage space management: optimal storage space planning to increase efficiency, and much more.
How Odoo Warehouse Management supports companies in inventory optimisation
The warehouse management app acts like an experienced advisor to help companies manage their inventory in the best possible way. Thanks to the app, you always keep an eye on your inventory and all related changes. This helps you to optimise ordering processes, reduce storage costs and avoid over- or understocking. In addition, the software can help improve the performance of your supply chains by identifying optimisation potential. Furthermore, the app's modern calculation methods provide valuable assistance for inventory valuation.
ODOO SALES: A VALUABLE ACCELERATOR FOR BUSINESS SUCCESS
A closer look at Odoo Sales and its functions
Odoo Sales is like a personal assistant that simplifies the entire sales process from quoting to payment processing. By automating these processes, a significant increase in sales and an improvement in customer satisfaction can accompany it. The essential features of this app from Odoo include:
Simple quotation and order management: e.g. create and manage invoices directly from sales orders.
accurate sales forecasts: providing forecasts of future sales volume, analysis of order and invoicing, etc.
clear document management with e-signature
customers can access their important documents in the customer portal
simplified communication management: e.g. through e-mail templates, e-mail gateways, multi-company system, etc.
Efficiently maintain products and prices, for example, thanks to price lists based on customer segment, the product configurator and detailed product type management
Lead and pipeline management to make the most of sales opportunities
Optimise your company's sales with Odoo Sales
Odoo Sales is a real all-rounder tool for automating sales processes and managing data in a time- and resource-saving way. From automated quotation and order tracking to the real-time status of orders and payments to the optimisation of sales processes, Odoo Sales serves as a high-performance app that relieves your sales team and ensures an increase in efficiency. Customers receive their important and correct documents quickly and easily, allowing the sales team to focus on customer care. This aspect can increase customer and employee satisfaction and contribute to the achievement of business goals.
ODOO WEBSITE BUILDER – WEB IS THIS EASY
Using the building block principle to create a website with Odoo Website Builders
In today's digital age, the website is a company's flagship. For many users, it is either the first point of contact to find out about products and services or the target point to which, for example, a social media post links to lead interested parties to the main source of information. In short, the website is the linchpin of customer communication and essential for lead generation. Therefore, it must be particularly meaningful and present the company adequately. With the Odoo Website Builder, not only can visually appealing websites be created through modern predefined designs - the realisation is even quite simple thanks to a building block principle. Content elements can be easily inserted into a template via drag-and-drop and adapted to the corporate design of the company, for example.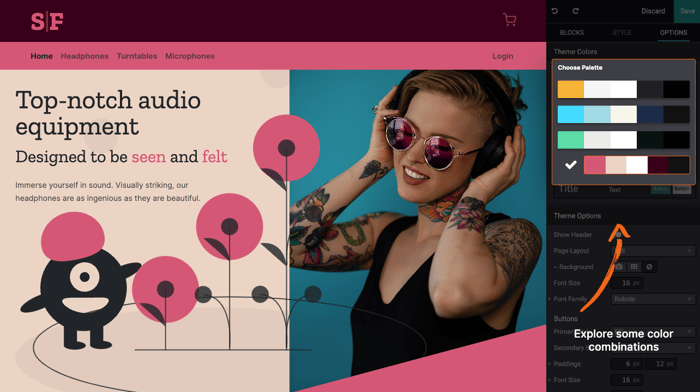 Screenshot: Odoo.com
Further advantages with the Odoo Website Builder
This intuitive builder helps you with SEO optimisation, seamless e-commerce integration, providing customer feedback options (e.g. live chat and integrated customer portal) and reporting for your Odoo website. The media manager offers simple, clear file management, copyright-free images, inline filters and editing and much more - creating a website could hardly be more user-friendly. For lead generation, Odoo also provides attractive features with the Website Builder, such as an intelligent marketing tool, blog articles, social media integration, form builder and more.
Would you like to learn more? Our marketing and software team will be happy to answer your questions.

Conclusion
Odoo is an open source business management software with a multitude of apps that offer attractive advantages for companies that value scalability, adaptability, efficiency, clarity and user-friendliness. Whether personnel management, financial accounting, warehouse management, purchasing and sales, website creation or marketing automation: Odoo as an all-rounder platform can significantly optimise your business processes and thus ensure improved employee and customer satisfaction. From the automation of the sales cycle to the structured management of projects to the simplification of complex financial processes, valuable resources can be saved with Odoo apps. In addition, Odoo apps can help to optimise online presence, increase the visibility of the company and generate more leads. Another plus point: Odoo, as an open source solution, has an active community of developers and users who provide support and enhancements. This makes it easier to solve problems and further develop the software.

Would you like to evaluate in more detail how Odoo could optimise your business processes with its app ecosystem? W4's team of marketing and software experts will be happy to advise you on this. Contact us!



You can also find more information about Odoo and our services on our website.