Nowadays, companies, whether B2B or B2C, use several communication channels to draw attention to their products and services. However, many companies are unclear whether a multi-channel or cross-channel approach should be pursued.
Multi-channel marketing and cross-channel marketing are two terms that are often used synonymously. In fact, however, they are two different strategies that share the common denominator of "different communication channels" but use them in different ways.

Whichever channel strategy you choose, those who come up with an appealing, authentic or creative story on the different channels have a good chance of generating leads and standing out from the competition. Why exactly strategic storytelling is so promising and useful tips for the implementation of a cross-channel story can be found in our free whitepaper:
Do you want to place your storytelling efficiently and resource-efficiently on different channels? Then Marketing Automation is the solution! The content and marketing automation experts at W4 will be happy to support you with efficient and creative storytelling. Get in touch with us!
Table of contents
CHALLENGES IN MODERN MARKETING
Marketing today is subject to a multitude of influences that are in a constant state of flux. An ever-changing business environment, technology development and continuously changing consumer habits have a huge impact on the success of marketing activities. Therefore, the credo for successful marketing is: stay or become agile!

Increasing digitalisation requires companies to adapt their marketing strategies in order to effectively use online presence, e-commerce, social media and other digital channels. Data management and data protection play an important role here. Big Data is a key word here: more and more data is accumulating that needs to be managed responsibly. Handling and protecting this data in accordance with data protection regulations such as the GDPR is an important challenge that companies must face. The digital world enables companies from all over the world to operate globally, which leads to more intense competition and increases the challenge to stand out from the crowd.

Furthermore, it is important to meet customer expectations, which are constantly changing. (Potential) customers expect personalised experiences and that they are perceived as individuals, valued and addressed accordingly.
Users expect information from the company on their preferred communication channel. Accordingly, companies need to be optimally present on a wide range of marketing channels such as social media, email or search engines.

Given the abundance of information, it can also quickly become a sensory overload for users, making it increasingly difficult for companies to capture the attention of the target group. This flood of information ensures that consumers' attention spans are quite limited, making it all the more important to get messages across quickly and concisely.

For some businesses, the rapid pace of technological development is also a huge challenge. AI and automation offer great opportunities, but can also be very complex. Establishing and effectively using modern technologies is often a hurdle that is not easy to face.

In short, it is not easy for companies to get their content to the right users at the right time through the right channels in the fast-moving digital age. Cross- and multi-channel marketing are two concepts that attempt to deliver marketing messages to users via different communication channels. Which approach is the right one for a company depends entirely on the circumstances in the company, the industry, the target group and much more.
MULTI- OR CROSS-CHANNEL MARKETING? - AN INTRODUCTION
The terms "multi-channel" and "cross-channel" all describe a cross-channel approach to a marketing strategy. The crucial difference: the "fusion" of the channels.
In multi-channel marketing, as the name suggests, a company has several channels on which it can carry out marketing measures. The channels are independent of each other and have few or almost no points of contact with each other. Of course, this does not mean that a marketing campaign cannot be present on all channels.

Cross-channel marketing describes the mutual support or supplementation of the channels among each other. Marketing activities take place consistently across channels. Users hardly notice the transitions, but experience a seamless experience or marketing action across several channels.

Cross-Channel Marketing
Definition and concept
Cross-channel marketing, is a marketing strategy in which companies link different communication channels to create a seamless and consistent experience for their target audience. The (potential) customers are thus to be addressed across channels and moved to action. The transitions between the channels are fluid.

Different online and offline channels can even be connected with each other: For example, one could offer a QR code on a flyer in a physical shop that leads users to the newsletter sign-up, through which they immediately receive a voucher code when making a purchase in the shop. The intention behind cross channel marketing: the customer should be able to experience a consistent brand experience regardless of the channel used.

Of course, implementing such a seamless and comprehensive marketing campaign requires some technical know-how. But the effort is worth it! The advantages of cross-channel marketing are manifold:
Strengthening customer loyalty
Increasing the effectiveness of communication
Creation of synergy effects
consistent brand experience
customer-friendly interaction
... are just a few of the many plus points. A modern, typical customer journey nowadays often takes place across multiple devices and communication channels. Users can switch between different contact points without having to start from scratch in the customer journey. The customer therefore receives the same offer regardless of the channel used. Customers can freely choose the channel depending on the situation or personal preferences. This ensures a pleasant customer experience and higher conversion rates. Those who offer inconsistent and irrelevant communication are increasingly ignored, deleted or even blocked by (potential) customers. Furthermore, cross channel marketing requires detailed planning and a not inconsiderable integration effort for the different channels in order to implement a consistent concept.

Real-life example
"Click and collect" models are the prime example of cross-channel activities that are profitably suited for marketing measures. The user can select products online in a relaxed manner without crowds in the shop, is shown purchase recommendations according to the motto "Customers who were interested in this product also bought XYZ" and also sees a creative pop-up banner for a newsletter subscription. In short, the customer receives several information offers online and can order a product to pick up in a shop. At the checkout in the shop, they receive a voucher code or points that they can redeem for their next online purchase.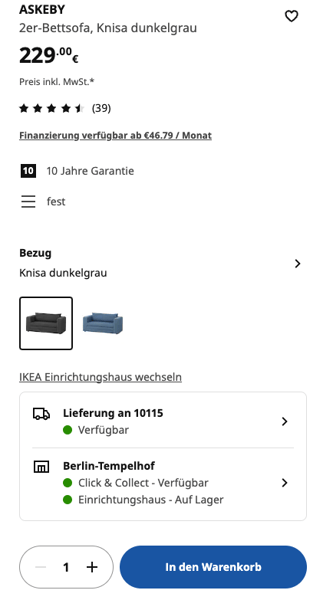 Source: Screenshot IKEA Online-Shop
In the case of Media Markt, the promise is also made that the ordered product will be delivered within 30 minutes. In our spontaneous, fast-moving times, this can be a real plus point to meet customer needs and stand out from the competition. Source: Screenshot of the Media Markt Austria website

Source: Screenshot Website Media Markt Austria
We have all experienced cross-channel user experiences online - often without really being aware of it. Just clicking on an ad in the social media feed that looks like a simple post and leads to a promotion page in the online shop represents a channel change. Such a consistent user experience is now expected by 90 percent of (potential) customers. (Accenture, 2018)
Implementation of a cross-channel strategy
For the planning and implementation of a cross-channel strategy, the first maxim is to always consider the customer-centric approach. This means thinking through all measures from the customer's point of view: Which channels do they use? How do they interact? What are their expectations regarding communication?
As a rule, prospects expect a consistent marketing message. Campaigns can run across multiple channels and present the core content of a message in different formats on different platforms. Consistent content across all channels should be ensured.

It is also necessary to set up appropriate data integration of the different channels to get a holistic picture of customer behaviour. This will allow you to better analyse and segment the target group as well as perform smart targeting to deliver content to your users that is optimally tailored to their interests and needs. Data-driven analytics and analytic tools can be very effective in helping you monitor and evaluate the performance of each channel. It can be of great importance for your strategy which channel contributes most effectively to conversion.

Another essential guiding principle that should apply to all channel marketing strategies is: "mobile first". As mobile devices become increasingly important, it is particularly important to ensure that your channel strategy is mobile-friendly.

Personalised targeting with content that truly matches the interests of your target audience can be implemented thanks to marketing automation. Automated workflows help send the right messages to the right stakeholders at the right time.

In addition to a consistent marketing message, the overall brand presence should also be consistent and clearly communicated across all channels. This creates trust and a recognition value.

The cross-channel concept can also be understood in relation to the different end devices. If, for example, a (potential) customer has filled his shopping cart in the online shop via smartphone, but later wants to send the order via desktop and possibly already pay, he can do this without having to fill the shopping cart again. The shopping basket therefore remains saved and can be accessed via different devices.
Measuring the success of a cross-channel campaign
The selection of relevant metrics depends on the campaign objectives, the type of business and the channels used. It is advisable to collect and evaluate both quantitative and qualitative data to get a comprehensive picture of the campaign's success.
Possible KPIs ("Key Performance Indicator") can be, for example, the turnover and the conversion rate. The latter indicates how many users who started an action on a channel actually converted to customers. Different attribution models can help to determine which combination of channels has led best to conversion. Customer journey tracking also provides information about the individual steps a prospect takes before converting to a customer. Bottlenecks, problems and optimisation potential in the customer journey can thus be identified and improved.

Evaluating classic engagement metrics on the individual channels is also essential, as they show how well your messages are received on the respective platforms. This evaluation can reveal good channel combinations.
The ROI ("Return on Investment") puts the investment for a campaign in relation to the turnover or profit. It is thus an almost indispensable indicator for evaluating the success of a campaign and can, of course, be considered across channels at campaign level.

How well the cross-channel strategy contributes to customer retention can be measured through repeat purchases. Possible weaknesses in the strategy can be identified through the churn rate. This measures how many prospective customers break off contact or interaction with a company after they have come into contact with the company on different channels. In this way, the influence of cross-channel efforts on customer loyalty can be evaluated.

Surveys and gathering customer feedback are as important in cross-channel marketing as they are in many other campaigns. You can conduct surveys or interviews to hear directly from customers about how they rate their experience across channels. This can provide valuable, qualitative insights. However, there is a fine line here between "oh, my opinion is valued" and "not another survey". In short, the questions should be really targeted and quick as well as easy to answer.
Multi-Channel Marketing
Definition and concept
As the name suggests, this marketing strategy involves several channels. However, unlike cross-channel marketing, these are not linked together but exist and function independently of each other. The aim is to address the target group on different platforms and thus increase reach.
Potential customers should be reached in different ways. After all, different target groups prefer to use different channels. Furthermore, in the course of mobile commerce, it has become increasingly important to be able to reach potential customers at any time. Although the content of the different channels is usually harmonised, they are used independently of each other. The customer journey usually takes place via one channel.

Similar to cross-channel marketing, the multi-channel strategy also lends itself to automation and smart tools that enable the maintenance of multiple channels from a single tool. The different channels can of course also be maintained from different systems, such as the respective CMS (content management system) like Typo3 or Wordpress or the respective social media account like Facebook or Instagram.
Real-Life Example
The well-known sports fashion manufacturer Adidas offers an example of a multi-channel strategy by offering and marketing its products via various channels. On the one hand, its own online shop: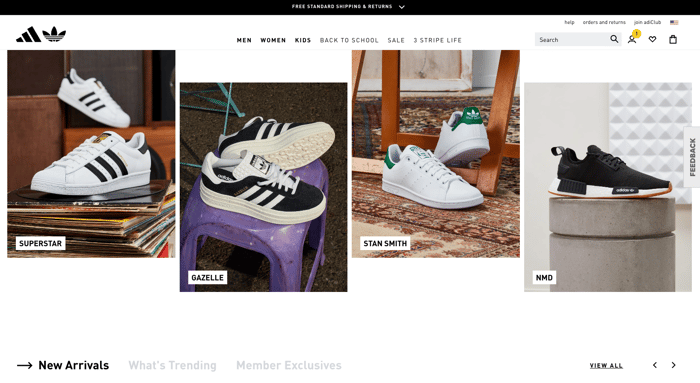 Source: Screenshot Adidas Website

... and on the other hand via online shops of other companies, on which, for example, advertisements can also be placed.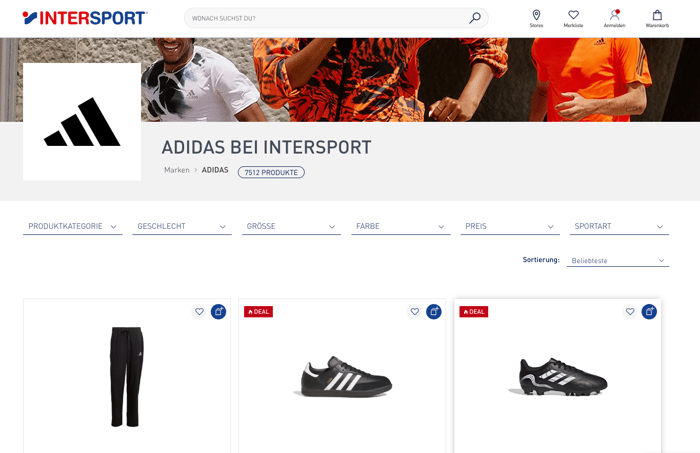 Source: Screenshot Intersport Website
The idea behind this is obvious: the greatest possible reach thanks to different channels.

72 % of consumers state that they would prefer to contact companies and brands via a multi-channel approach. In short, every company's chances of success increase when they optimally meet the preferences and interests of their target groups.
Strategic considerations
At first, planning a multi-channel strategy seems less demanding than a cross-channel strategy because the individual channels do not have to be designed as a unit. But this appearance is deceptive! The cross-channel approach sometimes allows prospects to quickly switch to their preferred channel, which can prevent them from bouncing. With multi-channel marketing, the message and workflow within a channel must fit immediately to prevent bounce. Thus, it is even more important to think through all marketing activities and minimise churn risks.

The choice of channels is particularly important in order to deliver the marketing measures as efficiently and promisingly as possible to a large group of interested parties. The channels that best fit the target group should be focused on. This could be social media, email, search engine advertising, content marketing, print media and more.

The marketing message and brand image should be consistent across all channels to build trust and recognition.

Furthermore, (as with cross-channel marketing) audience segmentation to send users specific messages that match their interests and user behaviour, and personalisation to send users personalised content and offers are important for the success of campaigns. The more relevant the messages, the higher the likelihood of a positive response.
In addition, timing must also be taken into account: Try to find the best time to publish your content on the different channels. For example, social media posts at certain times of the day might be more effective and generate more clicks.

Cross-promotion can of course also take place in the multi-channel approach without immediately speaking of a cross-channel strategy. The channels can support each other through individual campaigns to achieve a higher reach. For example, the latest blog posts could be pointed out on social media. This does not necessarily imply a comprehensive cross-channel approach.
Probably even more important than cross-channel marketing is a consistent user experience. This should be smooth across all channels.

Whichever marketing approach you choose: Analysis and optimisation are the be-all and end-all in marketing. Stagnation means being left behind in the medium and long term. Data analyses to evaluate the performance of each channel are a must. Based on the results, appropriate adjustments must be made in order to meet (potential) customer needs in an even more targeted manner. A/B tests are an exciting way to test different approaches and messages on different channels in order to sound out the adjustments.
Measuring the success of a multi-channel campaign
Similar to cross-channel marketing, the following metrics can be relevant for measuring the success of a multi-channel campaign: Sales, conversion rate, attribution modelling, channel-specific metrics (such as open rate, click rate, impressions, follower growth, etc.), customer journey tracking, engagement metrics (such as clicks, likes, shares, etc.), ROI (return on investment), customer satisfaction (evaluation of surveys or feedback requests), customer retention and repeat purchases, churn rate and many more.

When measuring success, it is also advisable to use a combination of quantitative and qualitative metrics. And even with this approach, the choice of metrics depends on the campaign objectives and the channels used.
CROSS-CHANNEL VS. MULTI-CHANNEL: A BRIEF, DIRECT COMPARISON
Multi-channel marketing:

Definition: multi-channel marketing involves the use of several different marketing channels to increase reach and engage the target audience on different platforms.

Goal: To show presence on different channels to increase the chances that the target group comes into contact with the marketing messages. So it is primarily about presence and accessibility.

Independent channels: Channels are often independent of each other in terms of setup and function. Closer integration with other channels does not exist, if only to a very small extent.

Channel-specific messages: Messages and content are specifically adapted for the different channels. Marketing messages can be different depending on the characteristics of each channel.

Limited consistency: The consistency of the message across different channels can vary. Creating a seamless user experience with this approach often proves difficult.

Cross-Channel Marketing:

Definition: Cross-channel marketing is the seamless integration and coordination of different marketing channels to create a consistent and continuous user experience for prospects.

Goal: It aims to provide a cohesive and consistent experience across different channels. Accompanying the customer journey across touchpoints is the focus of this strategy.

Integrated channels: In the cross-channel approach, the channels are closely linked and complement each other. There is an exchange of data and information between the channels to enable an optimal user experience.

Consistent messages: Marketing messages and content are kept consistent across all channels.

Seamless experience: (Potential) customers can easily switch between channels without losing continuity on their journey through the channels. The customer journey is built and accompanied across the different channels.

In summary, the choice of channel strategy depends absolutely on the company's goals, opportunities, resources and possibly also technical know-how.
Performance in the B2B context
Privately, people are constantly active on different channels these days. But also in the B2B sector, users have become more demanding and want to receive information and offers via different (preferred) channels. Channel marketing in B2B aims to promote close cooperation between manufacturers and their distribution partners in order to jointly increase sales, increase market penetration and achieve efficient marketing of products or services. B2B customers expect different purchasing options, excellent service and a comprehensive as well as clear information offer on different channels. The relevant information must be found quickly and be consistent across all channels, especially since in the B2B sector several people are often involved in a purchase decision, each of whom may obtain their information on different channels.

If you only rely on one channel, you run the risk of losing valuable leads and thus (potential) customers.
Would you like to learn more about how you can generate leads quickly, efficiently and across channels? Then you might also be interested in our free whitepaper on "MORE EFFICIENCY IN MARKETING AND SALES FOR B2B COMPANIES":

OMNI-CHANNEL MARKETING – ON THE RISE
The omni-channel approach aims to achieve a total and consistent fusion of the various channels. For example, customer information collected on one channel is processed on other channels. For example, if a customer has a question about a product from the online shop and asks the chatbot, this information is saved and, if necessary, used directly by the customer service team for further communication via email without having to ask the (potential) customer again.

To a certain extent, this approach is a technically more comprehensive version of the cross-channel marketing approach and is often used synonymously with it. In the previous explanations, we initially focussed on the cross-channel and multi-channel approaches, as these are fundamentally different and are among the most frequently used strategies. The omni-channel approach is not yet very widespread due to the enormous technical effort required to set it up, but will gain in importance in the future thanks to smart tools and artificial intelligence.
CONCLUSION
As has become clear in the previous sections, both multi-channel marketing and cross-channel marketing are promising strategies in the battle for the attention of (potential) customers. To put it very simply, you could say that one approach focuses on quantity and the other on quality. The goal of achieving a high reach contrasts with the goal of creating an outstanding user experience. It is clear that the needs of users must be met in order not to be left behind. Both channel strategies can achieve this with an appealing setup. You are welcome to find out which strategy best suits your company with W4's team of marketing experts.

Feel free to contact us! We will support you in evaluating the right strategy, the technical setup and all marketing activities on your channels.