When it comes to e-commerce solutions, it can be difficult to decide which one is the best fit for your business. Both Shopify and Magento (Adobe Commerce) offer powerful features, but they also have some differences in the areas of functionality and scalability. In this article, we'll take a look at both and compare how they stack up against each other.
Shopify
First, let's look at Shopify. Shopify is a cloud-based solution that is beginner-friendly since it doesn't require much effort to set up. For example, hosting and maintenance are included in the subscription, which also means that you don't have to worry about your shop's security.
Moreover, Shopify offers a variety of features that are designed to help you create and manage an online store. Thanks to the drag-and-drop website builder, you don't need any programming skills to adapt the structure of a webpage. Another valuable function sends automated emails to customers who abandoned their cart before making a purchase. Shopify also partners with popular shipping companies, which takes another chunk off your plate since it facilitates the delivery process of your products.
In addition, Shopify offers built-in payment processing such as PayPal, Amazon Pay, and Apple Pay. With these providers, however, Shopify takes a transaction fee between 0,5 and 2,0 %. To avoid this fee, you may use Shopify's own payment service called Shopify Payments.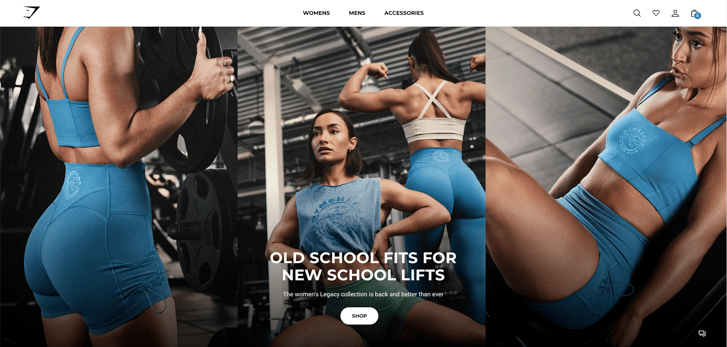 Gymshark operates with Shopify
When it comes to design options, you can pick from a variety of themes to determine the look and feel of your online shop. While there are some free themes, most of them have to be purchased individually. Shopify's ease of use also comes with certain design limitations. That is because the source code cannot be altered to accommodate highly individualised requirements. Even though you can upload your own text and images, Shopify shops tend to have a similar appearance which might dilute your business's brand identity. The limited customisation abilities additionally impact your online shop's Search Engine Optimisation (SEO). The URL structure cannot be changed, for example. Nevertheless, Shopify offers a range of Shopify SEO tools that support you in promoting your products online.
To conclude, Shopify is an excellent option if you are looking for an easy-to-use online shop that enables you to focus on your daily business – benefiting from automated processes and pre-developed features.
Magento
Now, let's have a look at Magento. To clarify, while Magento Open Source is a free open-source e-commerce platform, Magento Commerce is the paid premium version that was taken over by Adobe in 2018. This section focuses on the latter.
In order to set up a Magento online shop, basic knowledge of PHP and MySQL is required. While Magento offers a lot of pre-developed extensions, a certain level of modification may be needed to adapt the functionalities to your requirements. Similarly, the shop's maintenance demands time and effort. Especially the upgrade to a newer version may be complicated for e-commerce beginners. For example, Magento Ecommerce 2.3 has recently reached its end of life (EOL), which means that Adobe is no longer providing support and community to now outdated online shops. A swift change to 2.4 is thus urgently recommended.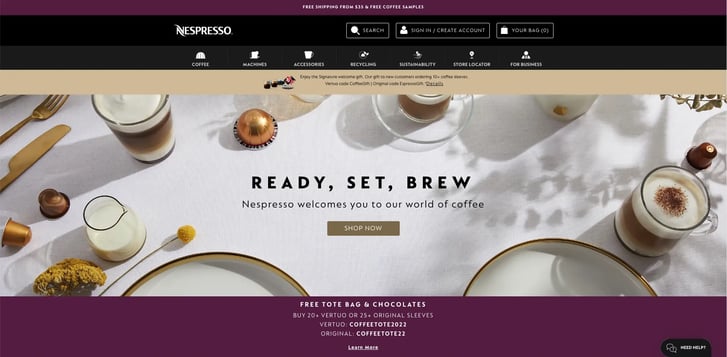 Nespresso operates with Magento
In addition, Magento is lacking a drag-and-drop editor which complicates the design process of your online shop. If you are willing to work with a team of programmers and professional designers, however, you will end up with a highly customised online shop that is designed according to your specific requirements. At W4, we are happy to provide you with expert design and development services.
Meanwhile, Adobe also provides a variety of unique core functions. Not only does the platform offer highly flexible product management, which allows you to easily add and modify products, but Magento as well enables you to manage multiple stores from a single interface. This means that you can integrate your online shop with marketplaces like eBay, but also social media channels. The support of multiple languages and currencies is another benefit – especially for merchants with an international target group. Moreover, this e-commerce solution provides built-in marketing tools, such as coupons and promotional codes that facilitate the promotion of your shop.
Regarding payment options, Magento offers a variety of third-party integrations like PayPal, Klarna, and Amazon Pay. A native payment solution is not available. Nevertheless, you benefit from unlimited SEO potential since you may also create SEO-friendly URLs, add meta tags, and create custom titles for your web pages.
To summarise, while Magento Commerce is more expensive and requires programming knowledge, this e-commerce solution allows for a highly individualised design and functionality, which makes for a unique customer experience that sets you apart from the competition.
The most important points
Overall, both Shopify and Magento offer powerful e-commerce solutions that can help businesses grow and succeed. Shopify is the better choice for beginners since it's easy to set up and use. Magento, on the other hand, is more suited to businesses that need a more powerful and scalable solution. Ultimately, the best e-commerce solution for your business will depend on your individual needs, the size of your business, and the budget you are willing to spend.
Book a meeting with our experts for a free consultation! Together, we will find the e-commerce solution that suits your business.
Or if you want to learn more, download our FREE WHITEPAPER!