WeChat (微信) is not just a social media and messaging app, it's a way of life for millions of people in China. Boasting over 1.3 billion monthly active users, it's the ultimate platform for businesses to connect with their target audience. WeChat Official Accounts provide an avenue for businesses to engage with their customers, share bespoke content, and offer top-notch customer service, ultimately boosting customer loyalty and driving sales.
But the power of WeChat doesn't just stop in China. Hong Kong accounts for the second-highest traffic, with a whopping 51.94% in April 2021, and according to the same study, there are even 1.48 million active users in the US. A survey by Statista confirms that 88% of American companies have already utilised WeChat for communication in China.
It's no wonder why WeChat dominates the world of messaging apps. The opportunities for businesses are limitless, and it's time to take advantage of this powerful platform to tap into a vast market.
In this article, you will learn how to leverage WeChat's massive traffic to increase your customer engagement and boost your marketing efforts.The team of experts at W4 provides professional marketing support to enhance your WeChat presence and maximise your visibility to potential customers. With our WeChat marketing solutions, you can go beyond basic messaging and tap into powerful marketing campaigns such as competitions, discount promotions, and ticket sales.
Table of Content
What are wechat official accounts and how many type are there?
WeChat Official Accounts are a type of verified accounts on the WeChat platform that businesses and organisations can use to interact with their customers. These accounts are managed by WeChat administrators and offer a range of features such as content publishing, customer service, and e-commerce integration. The WeChat Official Accounts can be utilised at various stages of the marketing funnel, serving as a foundation to establish a potential customer base within the platform.
There are three types of WeChat Official Accounts: WeChat Subscription Account, WeChat Service Account and WeChat Enterprise Account. All of them have different features, benefits and restrictions.
WeChat Subscription Account
WeChat Subscription Account (订阅号)is one of the three types of WeChat Official Accounts available to businesses and organisations. This type of account is mostly an informative account, so it is suitable for businesses that want to push regular content updates to their subscribers.
Pros:WeChat Subscription Account offers several benefits for businesses, including the ability to reach a large audience on WeChat, build brand awareness, and engage with followers through content sharing. It is free to set up and use, making it a cost-effective option for small and medium-sized businesses.
Cons: WeChat Subscription Account comes with certain limitations. For example, businesses are limited to one push notification per day, which can make it challenging to capture the attention of users who receive a lot of messages through the platform. Subscription Accounts are displayed in the "Subscriptions" folder in the WeChat app along with other accounts, which can make them less visible to users. . Additionally, there is no access to WeChat Pay since these account types don't support payments.
Who can benefit? WeChat Subscription Account is a great option for business that want to share regular content updates with their followers on WeChat without any additional costs. They are cost-effective way to reach a large audience and engage with customers on the platform.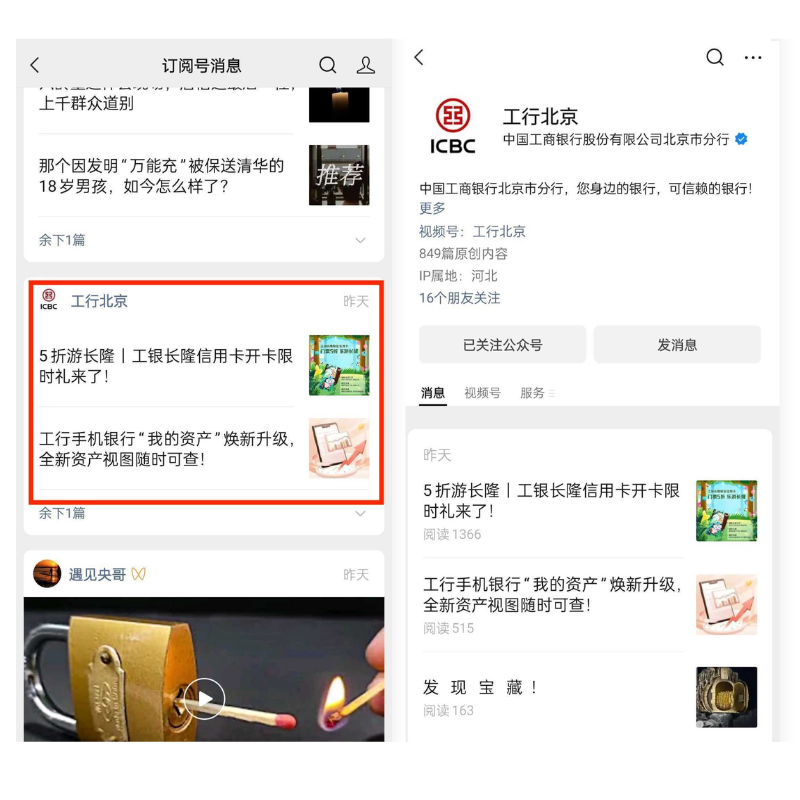 Subscription Account of 中国工商银行,Chinese bank
WeChat Service Account
WeChat Service Account (服务号) is a type of WeChat Official Account designed for businesses. It has advanced features such as customer service and e-commerce integration.
Pros: WeChat Service Account offers more benefits to businesses than the WeChat Subscription Account. While the push notification limit is restricted to four per month, the Service Account enables businesses to provide customer service through the platform, and sell products or services directly to users or promote their brand with paid options. By offering personalised customer service and support to their customers on the platform, brands can increase customer satisfaction and loyalty. WeChat Service Accounts are also displayed in the "Chats" folder in the WeChat app, making them more visible to users than WeChat Subscription Accounts. Therefore even if they have a limited number of push notifications, they are still favored by companies as they appear directly under the eyes of users.
Cons: Despite the benefits and opportunities that WeChat Service Account offers to businesses, this type of WeChat Account comes with its share of limitations. For instance, it requires an annual fee to use advanced features, such as payment integration. Another restriction is that businesses are limited to sending a maximum of four push notifications per month, so it still remains a challenge to engage with customers effectively.
Nevertheless, WeChat Service Account remains a powerful tool for businesses that aim to connect with customers on WeChat and provide personalised customer service and support. Even though there are limitations and costs associated with it, it is still an effective way to reach a large audience and establish a strong presence on the platform.
Who can benefit? This type of account is suitable for businesses of all sizes, but it is particularly well-suited for those in the e-commerce, retail, and hospitality industries.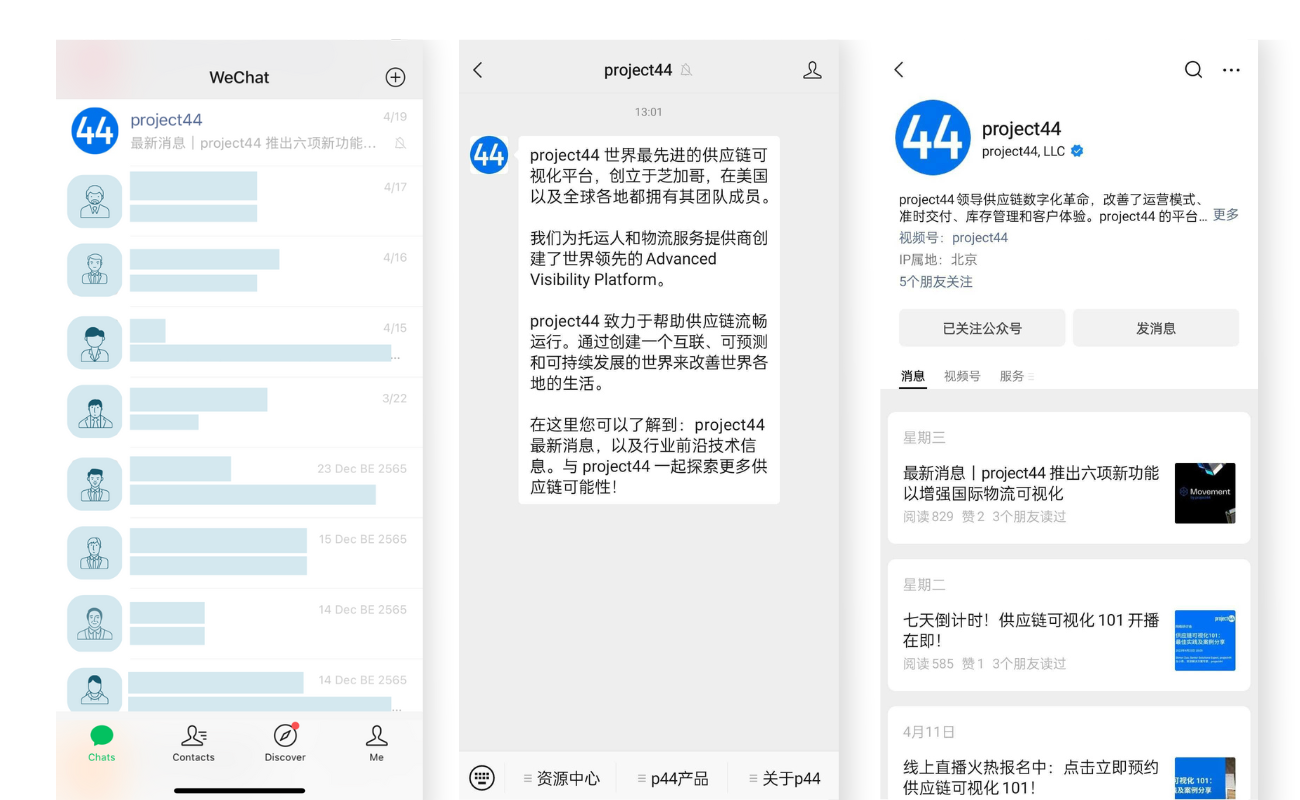 Service Account made by us W4, Project44
WeChat Enterprise Account
WeChat Enterprise Accounts (企业号), also known as Corporate Accounts or WeChat Work, is a type of WeChat Official Account designed for internal communication and collaboration within organisations. It is used in a similar way to a platform like Slack.
Pros:WeChat Enterprise Account supports organisations to manage their internal communication and collaboration on the WeChat platform with chat rooms, video conferencing and file sharing. Moreover, they can be integrated with other enterprise tools, such as email, calendar apps or third party CRM platforms like HubSpot. In addition to this, WeChat Enterprise Account offers businesses tools for HR management, expense reporting, and other organisational functions.
Cons: One of the limitations of WeChat Enterprise Accounts is that they are only accessible to employees of a particular organisation. This means that it may not be the best option for businesses that want to engage with external customers or clients. Additionally, WeChat Enterprise Accounts require a verification process, which can take several weeks to complete. The verification process involves submitting detailed information about the company and its employees, which may be time-consuming for some businesses. Finally, the WeChat Enterprise Account platform may not be as user-friendly as other enterprise communication tools, which could require additional training for employees to use effectively.
Who can benefit? WeChat Enterprise Account is particularly well-suited for businesses with large employee bases, such as multinational corporations, retail chains, and hospitality companies. They offer a secure and efficient way to manage internal communication and improve productivity across teams.
how to set up a wechat Official Account
In this section, we'll explain the process of setting up a WeChat Official Account, getting verified, and optimising your profile and settings. Plus, we'll explain how our company can help businesses create and grow their account and digital presence.
Step-by-step introductions for creating a WeChat Official Account
Download and install the WeChat app on your mobile device
Tap on the "Sign Up" button and create a WeChat account using a phone number
Once the account is created, go to the "Official Accounts" section of the app and tap on "Register" or go to its desktop version
Choose the type of account you want to create (Subscription, Service, or Enterprise) and provide the necessary information.
Follow the prompts to complete the registration process.
Download our free Checklist Guide
Once the registration is completed, you have to go through the Verification Process.
To get yourWeChat Official Account verified, you need to provide certain documentation and information. This typically includes:
A Chinese phone number
A Chinese ID
The Local Chinese Business License aka CBL
The complete Company registration documents
A Chinese bank account
These documents are the most important ones because without them the WeChat Official Account cannot be created. If a business doesn't have a local business licence there are other options, but these options are limited to a few countries, such as Italy, Germany, France, UK, Malaysia, Russia among others. They can only create a WeChat Subscription Account.
After uploading all the required documentation you also need to fill out a verification form and submit it to WeChat for review. Once the account is verified, your business finally has access to advanced features and tools on the platform.
At W4, we understand that the process of creating a WeChat Official Account and getting it verified can be a complex and time-consuming task, especially for businesses that are not based in China. That's why we have teams based in Beijing that can streamline the process for you and ensure that everything is done correctly. Our expert team can guide you through the registration and verification process, help you submit the necessary documentation, and provide ongoing support to help you maximise your WeChat presence. Contact us today to learn more about how we can help you create a WeChat Official Account for your business.
Tips for Optimising your Account Profile and Settings
To get the most out of your WeChat Official Account, it's important to optimise business profile and settings to provide a seamless and engaging user experience for your followers. First features to optimise your WeChat Official Account:
Choose an appropriate profile picture: it should be a clear representation of the brand, like the logo
Choose an engaging cover image: this is the first thing that users see when they visit the account, it has to be visually appealing
Write a comprehensive description: it should accurately reflect the brand and include relevant taglines for search engine optimization.
Add auto-reply messages: they can be used to provide quick responses to frequently asked questions, directing users to relevant content or products.
You should also customise your menu to provide a unique experience for your followers. The menu can include the link of:
The brand's website
A WeChat article
Brand's WeChat Mini Program
A H5 page
Triggers to display an Auto Reply
Last but not least, make sure to regularly update the account. Engaging and constantly publishing new content will keep users interested and coming back for more. This is the right way to build a strong presence on the platform.
W4: Service: Set-up Your WeChat Account
At our company, we provide comprehensive solutions for international businesses looking to advertise in China on WeChat.Our team based in Beijing has the expertise to guide businesses through the account creation process, get their account verified, and optimise their profile and settings for maximum impact.
We also offer ongoing support and guidance to help them build a strong following and engage with the customers on the platform, providing a dashboard to manage campaigns and view performance reports, and support them in creating engaging content, including H5 pages for their WeChat Official Account. With our help, brands can easily reach the massive user base on WeChat and grow their business in China.

Creating Content for WeChat Official Account
WeChat Official Accounts provide businesses with a powerful platform to connect with their customers in China. However, to make the most of this opportunity, businesses need to create engaging and effective content that resonates with their target audience. Here are some best practices for creating content for WeChat Official Accounts.
Know Your Audience
Before creating content, it's important to understand your target audience. What are their interests, needs, and preferences? What type of content do they respond to? By knowing your public, you can create content that is relevant and engaging.
Use Mix of Content Types
WeChat Official Accounts allow businesses to publish a variety of content types, including text, images, videos, and more. Using a mix of content types will keep your audience engaged and interested. For example, images can be used to showcase products or services, videos to share customer testimonials, and text to provide valuable information and insights.
Keep it Concise
WeChat Official Accounts have a limit of 5,000 characters per post, so it's important to keep the article content concise and to the point. Chinese users normally don't like posts that are too long, they can easily give up on reading all of it. Use short paragraphs, headings, and bullet points to make the content easy to read, and insert a lot of eye-catching graphic elements.
Use WeChat's Build-in Features
WeChat offers a range of built-in features that businesses can use to enhance their content and drive engagement. For example, WeChat Pay enables customers to make purchases directly from the account, QR codes provide easy access to your account, and sharing WeChat Moments will help the WeChat Official Account reach a wider audience.
Growing Your WeChat Official Account
Growing a WeChat Official Account following requires a focused approach. Companies need to be always available for their audience and engage with them, provide them relevant content and start to build a community. With consistent effort and attention to marketing strategies, Businesses can successfully grow their WeChat Official Account following and build a strong digital presence on the platform.
Increase Your WeChat Official Account Visibility
Here we show some strategies for increasing WeChat Official Account's visibility and attracting more followers.
Use QR codes: QR codes are the main feature on WeChat and can be used to direct users to Official Account. The QR code needs to be included on the official website, business cards, and any other marketing materials, including offline marketing.
Become Partner with influencers, the so-called

KOL

: Partnering with KOLs who have a large following on WeChat can help brands reach a wider audience and attract new followers. The influencers need to be relevant to the brand's products and service and align with the company values.
Run WeChat Paid Ads: Running promotions and contests on WeChat can help increase engagement and attract new followers. For example, an initiative that offers a prize to users who follow the account and share a post with their friends.
Take advantage of WeChat Mini Program: integrating mini-app, such as e-commerce functions, games and other utility tools, the brand can create more engagement and interactive experience for their followers.
Cross-promote on other channels: Use other social media channels, such as Douyin and Little Red Book, to promote the WeChat Official Account and encourage followers to follow the brand on WeChat as well
Build Your WeChat Community
Increasing visibility goes along with building an online community on WeChat. This means that brands need to be in contact with their audience and encourage them to interact with the content.
To engage with the audience and build a community, make sure to respond promptly to comments and messages. WeChat users are rarely offline so they expect timely responses, so aim to provide helpful and informative answers as quickly as possible.
Another effective strategy is to personalise the content using WeChat's segmentation and targeting tools. By tailoring the content to the audience's interests and preferences, it will be more engaging and relevant to them. By also featuring user-generated content on WeChat Official Account, you can show to your followers that your brand values their contributions and opinion. This can help foster a sense of community around the brand. For instance, you can invite your followers to create and share their own content related to the brand, whether it's photos, videos, or reviews.
Measure Your WeChat Official Account Performance
By regularly analysing WeChar Official Account's performance, companies can make informed decisions about the content strategy and improve the overall presence on the platform. To track WeChat Official Account's performance and monitor its progress, companies can take advantage of WeChat's built-in analytics tools. These tools can help measure metrics such as:
Follower growth
Views
Likes and shares
Click-troughs
Conversion rate
Time spent
To track these WeChat Official Account KPI, you can use the WeChat backend dashboard or use third-party analytics tools to get more in-depth insights into your account performance.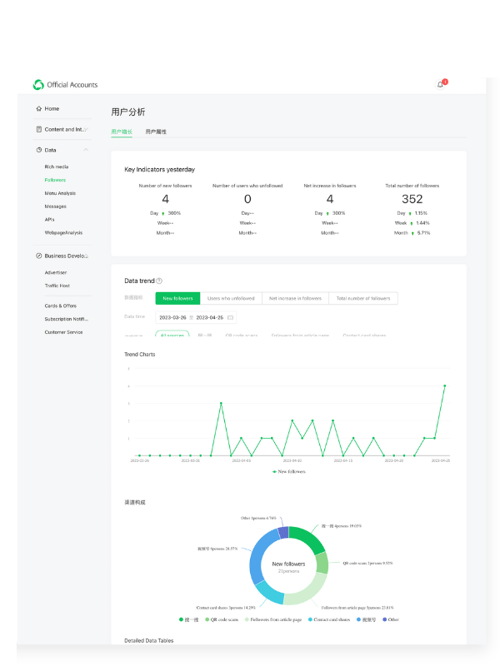 It is important to set specific goals for the account in advance and track the progress while achieving them. This can help identify areas that need improvement and adjust the strategy accordingly.
Advanced WeChat Official Account Features
As businesses continue to explore the potential of WeChat Official Accounts, they may want to consider the platform's advanced features to further enhance their marketing strategy. Two of the most notable advanced features are WeChat Mini Programs and WeChat Moments Ads.
WeChat Mini Programs (微信小程序) are lightweight, in-app apps that can be accessed without downloading or installing anything on a user's device. They allow businesses to offer a variety of features and services, such as e-commerce, games, and utilities, all within the WeChat platform. This makes it more convenient for users to access and use these features, and can increase engagement and retention.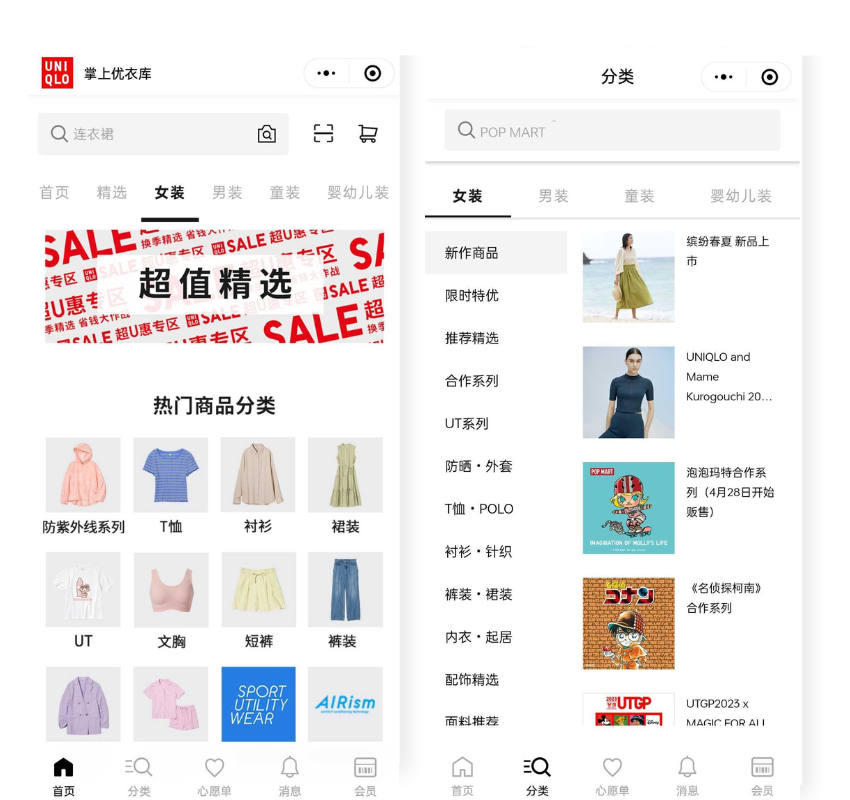 Uniqlo's WeChat Mini Program, e-commerce feature
WeChat Moments Ads (朋友圈广告), on the other hand, allow businesses to advertise directly within users' Moments feed, which is a social media-style timeline where users can share updates, photos, and articles. These ads can be targeted to specific demographics, interests, and behaviours, and can include interactive features such as links, videos, and app downloads.
By using these advanced features, businesses can create more immersive and engaging experiences for their WeChat followers, and reach a wider audience through targeted advertising. However, it's important to understand the costs and limitations of these features, and to carefully consider how they fit into the overall marketing strategy.
Conclusion
WeChat Official Accounts are essential for any business looking to expand or enter the Chinese market. With its massive user base, personalised content, and strong customer engagement, WeChat offers unlimited opportunities for businesses to connect with their customers in China. By creating a strong presence on the platform and optimising the account and content, brands can grow their business and connect with their target audience.
Our company has the expertise to help businesses set-up and grow their WeChat Official Account and digital presence, from content creation to account optimization. We can help businesses leverage the power of WeChat to reach and engage with their target audience in China, taking their digital presence to the next level. If you are interested, get in touch with us.