As a platform for digital data analysis, Google Analytics is essential for the online presence of many companies. In addition to website visits, the platform is primarily used to evaluate the success of online marketing campaigns. Back in 2020, the upgrade Google Analytics 4 (GA4) was launched, with many companies continuing to use the old version out of habit. However, Google Analytics will automatically transition to GA4 in July 2023. Since you can't take your historical data with you, you should upgrade as soon as possible! Worst case scenario, you'll not only have a data gap waiting for you in July, but also a knowledge gap that you won't be able to close anytime soon.
Hurdles and opportunities: Here's what you should consider when moving to GA4
The first look at the GA4 interface is a bit of a shock: all of your company's common measurements and KPIs are gone. So you have to start from scratch. However, the analytical tabula rasa is by no means to be understood as a setback. Rather, the Google Analytics upgrade offers you the possibility to create and evaluate individual metrics. In the following, we will present the most important differences and new features to make the move to GA4 easier for you.

Measure your individual KPIs in the Custom Report tool.
While the old version included 25 different tracking views, there is only one Custom Report section in GA4. Where individual website calls were measured and automatically displayed as sessions, GA4 now works with so-called events. These events can still show page views, downloads, and sales, but they have to be created manually. To do this, click on "Create" under "Insights". Now you can select the time period, segment, location, and metric. For example, you could create a weekly measurement of all website visits from Switzerland, Germany, and Austria. Although manual creation may seem tedious at first, GA4 offers you the possibility to set up your company's KPIs on the platform in much more detail than before.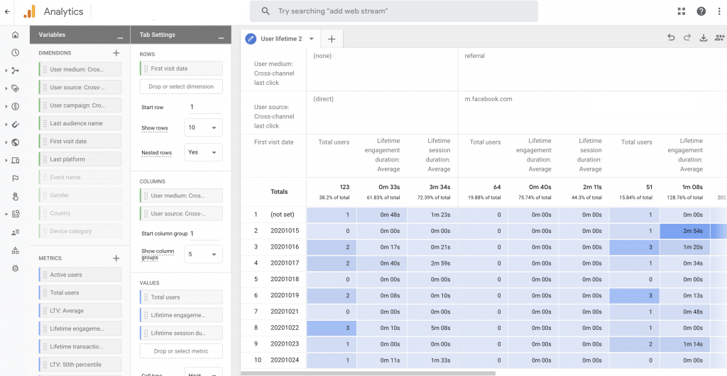 This is a screenshot of the new Custom Report tool.
The most exciting new feature, however, is the ability to track a user across different devices. GA4 can thus give you a comprehensive overview of how the same user behaves in your app and on your website. This gives you a holistic insight into the customer journey!

Make predictions with artificial intelligence.
While reinterpreting your KPIs with GA4 takes time, the upgrade makes up for the inconvenience with its smart tool. Thanks to machine learning, Google Analytics now makes useful predictions about the future. For example, the Predictive Audiences tool identifies users who are most likely to make a purchase. Besides, you can also focus on users who are likely to churn and still need convincing.

Better save than sorry.
With GA4, your analytics data is no longer stored indefinitely, but deleted after 14 months. But don't worry – your data will not be lost. After all, Google Analytics has integrated its cloud server BigQuery into the platform. So all your measurements can be safely exported and utilized for further analysis.
Even if the transition to GA4 seems tedious, we recommend that you upgrade as soon as possible. This will give you enough time to get to know the new features. It will also help you to avoid a data gap that would occur if GA4 automatically resets your previous measurements in July 2023. Our tip: Just let the two versions run in parallel until you have set all custom reports for your KPIs.
Are you still unsure how to set up your company's KPIs in GA4? Or would you like general support in tracking and reporting your campaigns? W4 offers you full-service expertise from keyword analysis to the support of your marketing campaign.