Do you want to know where is the perfect place to raise your sales during these difficult times?
Do you know why you should choose a Chinese B2C platform?
Chinese people love to buy online much more than Westerners. You can buy anything you could want (clothes, food, computers, digital products, maternity products, jewelry etc.), have a wide range of competitive prices, impeccable customer service, alternative payment methods and super fast delivery times.
In China, the number of online buyers and e-commerce platforms and APPs are higher than those in the West. So it doesn't surprise us that China's e-commerce sales are more than the sum of those of Europe and the USA. Recently, it was also recorded that 90% of Chinese e-commerce is carried out through online shopping malls, rather than on a stand-alone website. Mobile internet users in China are 1/5 of the world's total (today they are more than 903 millions) and are the most used to do online shopping via mobile in the world.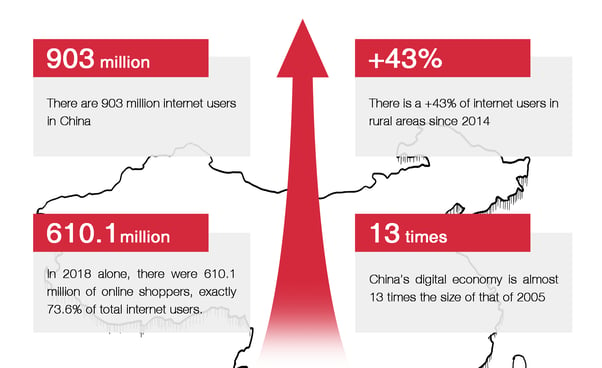 The B2C e-commerce in China shows high profit, high customer concentration and high working efficiency.
TOP 3 Chinese digital marketplaces
1. TMALL
Owned by Alibaba, Tmall is the first-ranked platform in China with a market share of more than 60%. It sells high quality products and luxury products. Tmall is a brand-oriented market and offers many opportunities for foreign brands to launch their businesses in China. Tmall gives the possibility to sell products out of season and create advertising campaigns involving other online spaces such as social media, live streaming etc.
2. JD.com
The second most used B2C platform is JingDong (JD.com) of the Tencent group - owner of the Alibaba rival WeChat APP. High quality and luxury products are also offered on JD.com. This platform is renowned for its strict counterfeiting policy, thus ensuring the authenticity of the products to the customer. Unlike Tmall, the JD platform holds the leading role in the electronics and home appliances sector. The seller also does not have many responsibilities in running the online store as it takes care of everything JD.
3. TaoBao
Taobao is also owned by the Alibaba Group. With 60 million users every day it is one of the busiest sites in the world and more than 80 million products are currently on sale. Most of the sellers are private or small businesses and today there are 10 million.
In the Chinese digital market there are many other quite relevant B2C platforms, for example: Suning, Vipshop, Douyin (TikTok for Westerners), Xiaohongshu and many more. These are also great for your brand to get known by your potential customers.
Some tips for opening your online store
If you want to open your business in a Chinese B2C platform, here are some tips that may be useful to you:
Check legal rules: check all the laws and restrictions to be able to sell on a Chinese e-commerce platform.
Choose the right platform for your business: do market research to find out which platform is best suited for your product and target group.
Find a partner in China: having a partner in China means that your business will know exactly the varieties of such a vast territory and its different internal realities and will be able to apply a wise managing and marketing strategy.
Establish your digital presence: social media plays a more important role in China than it does in the West. For this reason it is best to have an official Weibo, Little Red Book and WeChat account for your business.
Create your own website in Chinese: it is crucial to the customer trust building process.
For more information read our Whitepaper: