In China's vast realm of digital landscape, Baidu(百度) is a dominant force and an important platform for companies looking to expand their reach. As the country's largest search engine and comprehensive web services provider, Baidu plays a critical role in connecting brands with China's vast consumer base. The following article is an extended guide intended to provide comprehensive information about Baidu and its significance as a platform for brand expansion in China. We aim to offer you a beginner's understanding of one of the world's largest search engines and its relevance to businesses targeting the Chinese consumer market. However, if you prefer a quick overview of the Baidu Search Engine, you can download it for a more concise overview and later reading.
Or you can directly contact our experts, they will be happy to answer all your questions
Table of Content
What is Baidu
Baidu, often referred to as "China's Google," is the giant Chinese search engine that has shaped the country's digital landscape. It is among the largest search engine platforms in the world and enjoys great popularity in China. On Alexa, it even ranks as the fifth most popular platform in the world. While the company's core service revolves around web search, Baidu has expanded its offering to include a wide range of digital services, including maps, news, cloud storage, e-commerce, online advertising, and artificial intelligence.
According to Statista, in March 2023 almost half of the Chinese market share of search engines is of Baidu. As the first touchpoint for internet users in China, Baidu offers immense potential for brands looking to expand their presence and influence in the country.
The scale of Baidu's operations is reflected in the remarkable steady growth in its revenue figures. The platform's advertising business, driven primarily by search marketing, generated $17.9 billion in revenue in 2022, solidifying Baidu's position as a leading player in China's digital advertising landscape. In addition, Baidu's continued investment in research and development has enabled it to make progress in areas such as autonomous driving, natural language processing, and speech recognition, further enhancing its technological strength.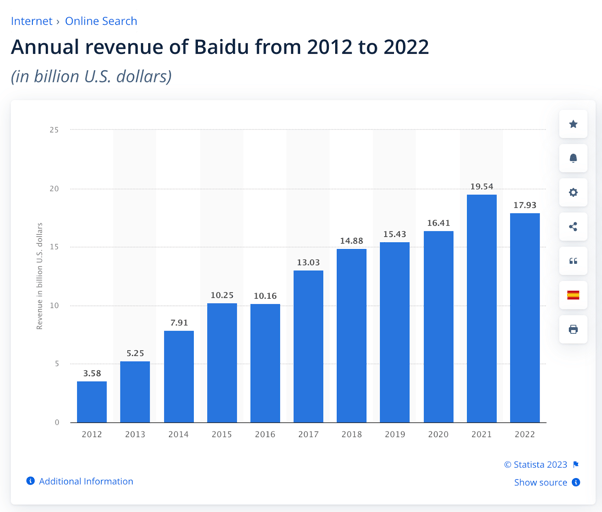 Understanding Baidu's ecosystem is critical for brands looking to make a name for themselves in China. Because the Chinese Internet landscape is different and often differs from Western platforms, companies that understand Baidu's dynamics can adapt their strategies accordingly. With a deep understanding of Baidu's search algorithms, advertising platforms, and user behaviour, brands can optimise their digital presence, increase their visibility, and ultimately tap into the enormous potential of the Chinese market.
In the following sections of this article, we will delve deeper into Baidu's history, its core services and products, and its marketing tools and how they compare to Google. By gaining insights into how Baidu works, companies can strategically position themselves, increase their brand awareness, and embark on a fruitful journey to conquer the Chinese market.
The Story of Baidu: From Search Engine to AI Powerhouse
In the ever-evolving Internet landscape, Baidu has established itself as a great force in technology and artificial intelligence (AI). Let us dive into Baidu's fascinating history and explore its humble beginnings, remarkable progress, and current status as a global AI and Internet giant.
The Birth of Baidu
Baidu was founded in 2000 by Robin Li and Eric Xu as a search engine with the goal of revolutionising Internet search specifically for the Chinese language. Baidu's roots can be traced back even further, to 1996 when Robin Lideveloped RankDex, an early search engine. This experience laid the foundation for its vision to provide more efficient and comprehensive search capabilities tailored to the Chinese market.
Artificial Intelligence for Content Discovery
Over the years, Baidu recognised the immense potential of artificial intelligence and became an early adopter of this transformative technology. In 2010, Baidu leveraged artificial intelligence to improve content search on the Internet and enable users to find relevant information more effectively. At the heart of this initiative was "Baidu Brain," the company's core AI technology engine. This move laid the foundation for Baidu's push into developing new AI businesses and solidified the company's position as an AI-driven company.
Baidu's Key Growth Engines Today
Today, Baidu has become one of the largest AI and Internet companies in the world, with an expensive ecosystem that includes millions of developers, hundreds of thousands of businesses, and hundreds of millions of users. Baidu's success can be attributed to three key growth engines that drive its broad portfolio of products and services:
The Mobile Ecosystem is the first pillar of Baidu's growth and includes popular platforms such as the Baidu App, Haokan, and Baidu Post. These mobile services allow users to access a wide range of content, services, and social interactions, solidifying Baidu's presence in the daily lives of millions of Chinese consumers.
AI Cloud provides cloud services and solutions based on AI. Baidu leverages its AI expertise to provide companies with cutting-edge cloud technologies that enable them to harness the power of AI for their own businesses and advancements.
Intelligent Driving & Other Growth Initiatives (OGI) encompasses Baidu's activities in self-driving cars, intelligent electric vehicles, robot cab fleets, Xiaodu smart devices, and AI chip development. Baidu's commitment to developing autonomous driving technologies has catapulted the company to the forefront of this groundbreaking industry.
Milestones and Recognition
Baidu's impact on the technology industry has not gone unnoticed. In December 2007, Baidu became the first Chinese company to be included in the prestigious NASDAQ 100 index, underscoring its significant global influence and market presence. In addition, Baidu was dual-listed on the Stock Exchange of Hong Kong Limited (SEHK) in March 2021, further cementing its status as a leading player in the industry.
As Baidu continues to innovate and push the boundaries of technology, its evolution from a search engine platform to an AI powerhouse is an inspiring testament to the remarkable development and growth of this visionary company. With its focus on artificial intelligence, its large user base, and its diverse portfolio of products and services, Baidu remains at the forefront of transforming the digital landscape, both in China and the rest of the world.
The endless features of the Baidu search engine

With its impressive market share, Baidu dominates the search engine landscape, handling a staggering 5 billion queries per day in China. Let's explore now the key features that make it an indispensable tool for Chinese internet users.
Baidu Maps: The Mapping Platform
Baidu Maps (百度地图)is a popular mapping and navigation service offered by Baidu. Similar to other mapping platforms, Baidu Maps offers a variety of features to help users navigate and explore their surroundings. It offers detailed maps, directions, real-time traffic information, public transportation information, and street views. Baidu Maps also integrates with other Baidu services such as Baidu Search and Baidu Tieba to provide additional features such as local business information, user reviews, and recommendations. With its comprehensive coverage and user-friendly interface, Baidu Maps has become an indispensable tool for locals and travelers in China, providing efficient and convenient navigation.
Baidu Xinwen: The News Collection Platform
Baidu News (百度新闻) provides users with a comprehensive collection of news articles, headlines and current affairs from various sources on the Internet. Baidu News covers a wide range of categories, including current events, politics, business, technology, entertainment, sports and more. Users can personalise their news feed according to their interests and preferences. The platform leverages Baidu's powerful search algorithm to deliver relevant and timely news content to its users. With its wide reach and user-friendly interface, Baidu News has become a popular destination for Chinese users to stay informed about the latest events at home and abroad.
Baidu Baike: The Online Encyclopaedia
At the core of Baidu's search engine lies Baidu Baike(百度百科), an online encyclopaedia that serves as a comprehensive repository of information on a wide range of topics. Similar to Wikipedia, Baidu Baike provides insights into history, culture, science, technology, and more. With over 25 million entries, it stands as a valuable resource integrated seamlessly into Baidu's search results, offering users a reliable and efficient means of accessing in-depth information.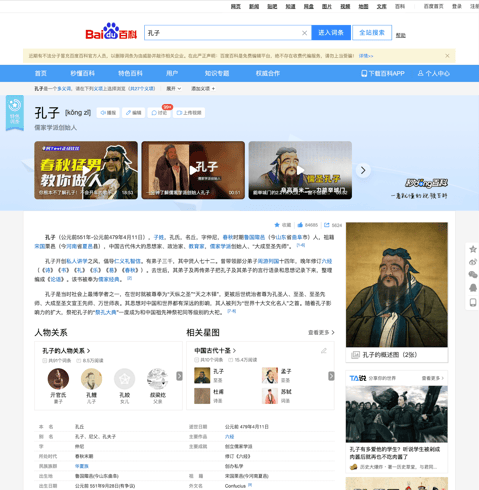 Research on bike the chinese philosopher Confucious
Baidu Zhidao: the Question-and-Answer Platform
Baidu Zhidao (百度知道), also known as Baidu Knows, is a question-and-answer platform provided by Baidu. It allows users to ask questions on various topics and get answers from the community. Baidu Zhidao has a large user base and a wide range of topics, making it a valuable source of knowledge and information. Users can also contribute their expertise by answering questions and participating in discussions. Baidu Zhidao serves as a platform to seek advice, share knowledge, and connect with others, fostering a vibrant community of knowledge seekers and sharers.
Baidu Space: The Social Network
Baidu Space (百度空间) takes the search engine experience to a social level. This feature allows users to create personal pages, blogs, albums, and groups, fostering a sense of community and interaction. Baidu Space offers a diverse array of applications, including games, music, videos, and e-commerce services. With Baidu Space, users can not only search for information but also connect with like-minded individuals and explore various forms of entertainment and self-expression.
Baidu Tieba: The Online Community Forum
Baidu Tieba (百度贴吧) is an online community forum platform. It allows users to create and participate in discussions on a variety of topics. Tieba is similar to other online forums, but places a distinct emphasis on user-generated content and community interaction. Users can create their own Tieba (forums) around specific topics, interests, or fan communities. In each Tieba, users can post topics, share multimedia content, participate in discussions, and connect with like-minded people. Baidu Tieba provides a diverse and vibrant space for sharing ideas, searching for information, and building communities for common interests. Baidu Tieba has enjoyed great popularity in China and has become an integral part of the social fabric on the Internet.
Qunar: Travel the World
Qunar (去哪儿), a subsidiary of Baidu, is a comprehensive travel booking system that simplifies the process of planning and booking travel arrangements. From flight tickets and hotel reservations to car rentals and vacation packages, Qunar covers all aspects of travel. It goes beyond mere bookings and offers travel guides and reviews, equipping users with the necessary information to make informed decisions and create memorable travel experiences.
Homepage of the qunar website
Voice and Image Search: Effortless Navigation
Baidu understands the importance of convenience and innovation, evident in its voice and image search capabilities. Voice Search allows users to search by simply speaking instead of typing. Supporting Mandarin Chinese and various dialects such as Cantonese and Sichuanese, Baidu's Voice Search recognizes natural language and context, making the search experience more intuitive and user-friendly.
Additionally, Baidu's Image Search feature revolutionizes the way users explore the digital world. By uploading or taking a picture, users can search for related images, and identify objects, faces, landmarks, logos, and more. This feature also provides users with similar images and related information, enabling them to dive deeper into their visual queries.
As one of China's most prominent search engines, Baidu offers an array of features that cater to the diverse needs of its users and unleash the full potential of your online searches. Whether users are seeking information, connecting with communities, conducting patent research, planning their next adventure, or exploring the world visually, Baidu's search engine empowers them with comprehensive tools and an intuitive user experience.
Ranking on Search Engines: Baidu vs Google
We have seen that Baidu is a giant not only in terms of search engine, but also in the field of technological development and its services and products. But now you may be wondering, once your company enters the Chinese online market, how can it stand out from other companies? Does the ranking system work like Google's? Do I need to use the same SEO strategies that I use for my Western website?
The answer is no, or almost. As different as the two worlds may be, Baidu and Google have similarities as well as differences. You'll have to follow different rules if you want your website to rank well on Baidu. In this chapter, we'll explore some key aspects of Baidu and Google and how to leverage them to rank higher on each platform.
Language and Culture
Both Baidu and Google prefer websites in the language of their target market. Baidu prefers content in simplified Chinese, while Google considers any language relevant to the user's location and query. Both search engines emphasise culturally appropriate and engaging content that resonates with their respective target audiences.
Technical and On-Page SEO
Baidu and Google have different requirements for website technology. Baidu prefers websites hosted in China or nearby regions, while Google has no such preference. Moreover, Baidu places more emphasis on keyword density, frequency, and placement than Google.
Mobile SEO
Both Baidu and Google emphasise mobile-friendly websites and offer mobile search features. Baidu supports Accelerated Mobile Pages (AMP) and Mobile Instant Pages (MIP) to improve mobile loading speed, while Google mainly supports AMP. It is important that mobile websites have the same capability and smooth performance as the desktop version. Remove or optimise any elements that are not mobile-friendly. Otherwise, Baidu will report a poor user experience if images, CTA, or other conversion elements are not mobile-friendly.
Content Marketing
Original, fresh, high-quality content is valued by both Baidu and Google. However, Baidu is stricter in penalising duplicate, thin, or low-quality content. Using Baidu's content platforms, such as Baidu Baike and Baidu Zhidao, can greatly improve your website's visibility and authority. On the other hand, Google offers features like Featured Snippets and Knowledge Panels to showcase relevant content on your website.
Link Building
Links play an important role in both Baidu's and Google's ranking algorithms. However, Baidu places more emphasis on the quality and relevance of links. To rank better on Baidu, you should focus on getting links from authoritative and trusted websites that are popular in China.
Webmaster Tools
Both Baidu and Google offer webmaster tools to monitor and optimise your website. With these tools, you can submit your website, sitemaps, and structured data, and track performance metrics. Although the interfaces and features differ, using these tools will give you valuable insights and help you optimise your site for each search engine.
Social media
Baidu and Google incorporate signals from social media into their ranking algorithms. Using social media platforms can increase traffic and engagement on your website. Identifying the relevant social media platforms for each search engine and using them effectively can help improve rankings.
Censorship policy
On Google, we have (almost) full freedom to create and publish any content we want. On the other hand, the website's content on Baidu will eventually be censored if something does not comply with Chinese government censorship laws. This includes seemingly innocent words with political significance in Chinese culture.
In order to achieve maximum visibility and success on Baidu, it is crucial to understand the differences and similarities with Google so as not to make the mistake of using the same strategy as the Western search engine. By adapting your SEO strategies to the specific requirements of Baidu and Google, you can help your website reach new heights in rankings, generate more visitors and enjoy a better online presence.
Online Advertising on Baidu: Amplifying Brands Reach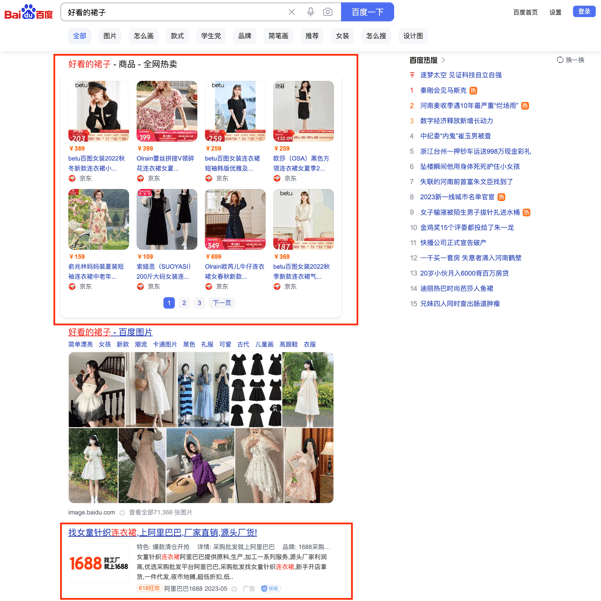 Screenshot of the first page of Baidu for "good looking skirt", ads are in red.
Similar to Google Ads, Baidu's advertising product is called Baidu Tuiguang (百度推广)and it works on a Pay-per-Click System (PPC). This allows businesses to promote their products or services on Baidu through multiple ad formats including search ads, display ads, video ads, and more, and effectively reach their target audience.
Navigating the intricacies of Baidu advertising can be a challenge, especially for international companies looking to enter the Chinese market. That's where our dedicated local team comes in, taking care of everything from creating your Baidu account to managing your advertising campaigns with expertise and precision.
When you work with us, you can focus on your core business while we take care of the complexities of Baidu Advertising. Our team's expertise and experience in the Chinese market will help you overcome cultural nuances, language barriers, and industry-specific trends, giving you a competitive edge in expanding your brand presence in China.
So leverage the immense potential of Baidu Advertising with the support of our dedicated team. Contact us today and let us guide you for your business success in the Chinese market.
Leveraging Baidu to Conquer China's Digital Landscape
In summary, Baidu is not just a search engine, but an integral part of the online landscape in China. In this article we have followed the company's evolution from its humble beginnings to its current leadership role, its wide range of services, products and advertising solutions. Understanding what Baidu means for your business is critical if you want to tap into the enormous potential of the Chinese market.
Realising the potential of the Baidu search engine requires a deep understanding of its unique algorithms, preferences, and user behaviour. By tailoring your SEO strategies to Baidu's requirements, you can significantly increase your website's visibility, traffic, and ultimately business success in the Chinese market.
At W4, we understand the intricacies of Baidu and have a dedicated team that specialises in navigating the Baidu ecosystem. From creating and optimising Baidu advertising campaigns to providing comprehensive Baidu SEO and content marketing solutions, we can help your business realise the full potential of Baidu. With our local expertise and industry knowledge, we can guide you through the complexities of the Chinese online market and help your business succeed.