As the world's second largest economy, China's expansive consumer base and dynamic economic environment provide fertile ground for growth for business from Germany, Switzerland, Austria and other European countries. However, the road to success is full of challenges — from cultural differences, harsh business environments to government digital and legal protectionism. This comprehensive guide aims to highlight the intricacies of the Chinese market, both its enormous opportunities and inherent complexities.
Our goal with this article is to provide European companies with the necessary knowledge for successful market entry and effective marketing by focusing on insights, and practical strategies. A strategic approach is required to navigate in the complicated Chinese market. This article is the perfect guide for foreigner companies toward successful engagement in one of the world's most influential economic nations.
Download our flyer to discover the most important strategies for your Business to enter the Chinese Market.
Marketing to China Strategies: What you need to Succeed
1.1 Understanding the Chinese Market
1.1.1 Pandemic and Economic Change in China
1.1.2 Chinese Consumer Behaviour in Economic Uncertainty
1.1.3 Emerging Chinese Consumer Trends
Top 11 Digital Marketing Strategies in China
1. Build a Tailored Strategy for China Market
2. Content Localisation
3. WeChat: the All-in-one Powerhouse for Businesses
4. Leverage others Social Media Platforms for Engagement
5. Video Marketing: Making a Lasting Impression in Seconds
6. Chinese Forum for your Brand Awareness
7. Digital Advertising in China: Unlocking Business Potential
8. Search Engine Optimisation (SEO) for Baidu
9. Key Option Leader (KOL): Improve your Brand Impact
10. Mobile Optimisation
11. Exhibition Event: Bridging Digital and Personal Engagement
12. Bonus: Accessibility for Chinese users, the Role of Reverse Proxy
Marketing to China Strategies: What you need to Succeed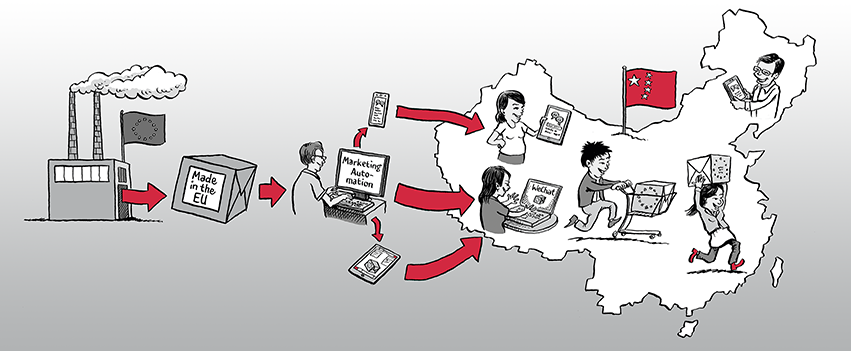 1. Understanding the Chinese Market
The almost limitless potential of the Chinese market is an undeniable force, driven by a large number of financially mobile customers, a distinct innovation landscape and an increasingly central role in global affairs. Both domestic and foreign companies are rapidly occupying the available space, underscoring the urgency of a strategic approach.
International companies, however, face challenges in bridging the technological and cultural differences to effectively address the Chinese customer base. A true understanding of the intricacies of the Chinese market is essential if they want to survive in this harsh environment. China's unique cultural characteristics, technological ecosystem, and dynamic market dynamics require a response that is deeply rooted in the local context. The need to be 100% responsive to the local market underscores the importance of cultural competence
1.1 Pandemic and Economic Change in China
International catastrophic events, aggravated by the after-pandemic crisis, have cast a shadow over the robust Chinese economy. Since January 2023, China has been struggling with an economic slowdown, as reflected in the downward trend of the consumer price index (CPI), raising the risk of deflation. Despite a modest recovery in the retail market in the first half of the year, with total sales of consumer goods rising 8.2% year-on-year, economic uncertainties remain.
1.2 Chinese Consumer User Behaviour in Economic Uncertainty
China's retail sector, which accounts for more than 77% of economic growth, remains largely stable, but pandemic-related closures, restrictions, and inflation have increased economic pressures on households. The resulting uncertainty about the future has led consumers to become more cautious and refrain from impulse buying. This economic environment requires a nuanced marketing strategy that not only adapts to the unique challenges of the Chinese market, but also addresses changing consumer behaviour during times of economic stress.
1.3 Emerging Chinese Consumer Trends
While consumers are shopping more consciously, remarkable shifts are taking place in consumer goods. The fashion and beauty industry, for example, experienced an upswing in the first quarter, indicating a growing demand for beauty products. However, retailing of durable goods such as household appliances saw slower growth, reflecting changes in entertainment preferences and less enthusiasm for home appliances.
After restrictions on long- and short-distance travel were lifted, this boosted demand in areas such as alcoholic beverages, camping, cycling, outdoor activities and pet products. Growing interest in health and wellness consumers tend to look out for foods and beverages with a health-conscious mindset. More and more consumers are also seeking diverse and personalised consumption experiences and shifting their attention from mainstream products to niche interests. Distribution channels are also evolving, with a shift from offline to online sales and the rise of O2O retail, a trend accelerated by the impact of the pandemic.
In addition, the share of imported consumer goods is increasing. Customs statistics show that the total value of imported consumer goods reached 478.74 billion yuan in the first quarter of 2023, up 6.9% year-on-year. Cross-border e-commerce transactions increased from 1.8 trillion to 3.4 trillion yuan between 2017 and 2022, an impressive growth rate of about 14%. This shows how much international brands are intensifying their entry into Chinese e-commerce platforms, such as Tmall.com, Koala, XiaoHongShu and more.
Top 11 Digital Marketing Strategies For China
1. Build a Tailored Strategy for China Market
In response to this complicated situation in China, emerging trends and changing consumer interests, a successful marketing strategy must be thought carefully. Bridging cultural and technological differences requires a coherent, scalable and cost-effective approach. Local expertise is critical to understanding nuanced consumer behaviour, while sophisticated solutions from outside China provide a competitive advantage in supporting marketing, sales and service with global best practices.
Market Research and Analysis: Navigating the Chinese Market
Before you set a strategy for entering the Chinese market, you need to assess the demand in the Chinese market. What do Chinese consumers want? Personalised products, cutting-edge gadgets, or healthy niche products? This understanding is the starting point to unlock a world of opportunities. China's unique consumer behaviors and trends necessitate a comprehensive understanding of the market. Various approaches cater to specific business objectives, such as digital marketing, offering rapid and extensive market reach, or establishing a local subsidiary for greater control. The choice needs to align with your business goals.
Cultural Sensitivity and Localisation: Understanding the Heart of the Chinese Market
Understanding Chinese culture, language, and consumer preferences is important for your business success in China. Language, as the first step, exemplifies respect and trust when used to communicate with Chinese consumers in their native language. Branding plays a vital role, reflecting quality and local culture alignment. In addition, Chinese consumers seek personalised products and services tailored to their unique tastes. Crafting marketing materials that resonate with cultural nuances, from visuals to messaging, is crucial in building lasting relationships between your brand and Chinese consumers.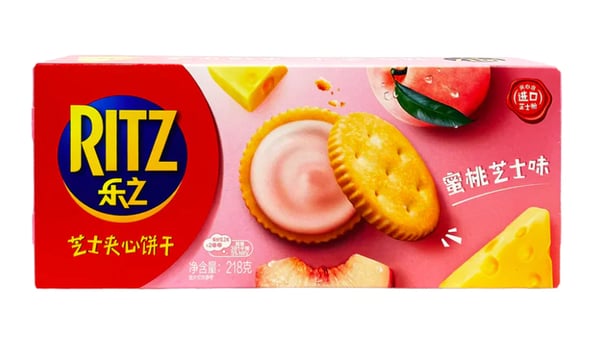 Ritz Brand adapting their products to local taste by adding a peach and cheese cream
In summary, to enter in Chinese market, your strategy must be firstly in harmony with local wisdom and trends, grounded in a deep understanding of the intricate Chinese consumer landscape, and supported by culturally sensitive marketing materials. At W4, our Beijing team is ready to guide your brand toward success in this dynamic market.
2. Content Localisation
It should not be a surprise that we put content localisation at the forefront of our marketing strategies list. Whatever your overall plan and goal for your marketing in China, the first thing you need to do is create and publish content that is tailored to your Chinese audience. Content is king, remember? It's about tailoring your message to the preferences, values and cultural nuances of the Chinese audience.
It is essential to understand the local needs, align with trends and speak the language. Having your website in Chinese is not only convenient, but also a symbol of your commitment and respect for the Chinese audience. Of course, it is not only a matter of translating from English, German or whatever your main language is into Chinese, but of adapting the content to your target audience and consequently adapting your products and services.
W4 Reference Client - Titoni's page translated and content adapted for their chinese audience
3. WeChat: the All-in-One Powerhouse for Businesses
Often referred to as China's "app for everything", WeChat (微信) is not just a messaging platform, but a multifaceted ecosystem that embodies the essence of modern digital life. It is a super app, offering messaging, social networking, e-commerce and much more in one place. For businesses, WeChat is an indispensable tool that connects them to a large audience and provides a comprehensive platform for communicating with customers.
WeChat's ecosystem is complex yet streamlined. It offers different types of WeChat Official Accounts (微信公众号) through which brands can create and share content, H5 pages for interactive engagement, and mini-programs (微信小程序) for e-commerce services. These features make it a one-stop shop for businesses to interact with their audience, showcase their products and conduct transactions. WeChat is the ultimate Digital Hub for your business activities.
W4 Reference Client: creation for the client
project44
a WeChat Service Official Account
4. Leverage on other Social Media Platforms for Engagement
In the complicated web of Chinese digital marketing, the use of a variety of social media platforms and being omnipresent on different social networks is important. Weibo (微博), Douyin (抖音), China's TikTok, and Little Red Book (小红书), for example, offer several ways to engage with Chinese consumers.

Weibo, a microblogging platform, allows you to reach a large audience with short, engaging content. Douyin, known for its viral video content, offers a unique way to engage users with short, visually captivating videos. Little Red Book, with its focus on lifestyle and fashion, is a prime platform for brands serving these niches.

When you expand your presence across multiple platforms, you increase your brand's visibility and opportunities for interaction. By leveraging the strengths of each social media channel, you can engage with different consumer segments, tell your brand story in a unique way and ultimately improve your market penetration.
Download our free flyer to discover all the Chinese Social Media Platforms for your business
5. Video Marketing: Make a lasting Impression in seconds
Video marketing has become the main type of content marketing to target Chinese audiences. This trend has revolutionised digital marketing by delivering concise, visually stunning content. Platforms such as Douyin and WeChat Official Channels or Bilibili (哔哩哔哩) play an important role in harnessing the potential of short videos.

Short videos are the language of modern engagement and offer a quick, impactful way to tell brand stories and showcase products. Douyin, the main Chinese app, popular as much as WeChat, has a huge user base and enables brands to reach millions of Chinese consumers with entertaining and engaging videos.

The WeChat Official Channels (视频号) provide another opportunity for short or long video marketing and encourage user engagement within the WeChat ecosystem. On the other hand, Bilibili is the most popular long-video platform among Chinese youth, offering businesses the opportunity to create engaging and educational content to connect with their target audience and give them the chance to comment on businesses' live-streaming.

The Video Marketing trend is not only about delivering messages, but also about connecting your business with users in a creative way and ultimately making a lasting impression in a few seconds.
W4 Study Case: creating video for the client project44 for their WeChat Official Channel Account
6. Chinese Forum for your Brand Awareness
Using Chinese forums is an effective strategy to increase brand awareness. Platforms such as PR (贴吧) and Zhihu (知乎) offer unique opportunities for meaningful engagement with Chinese audiences. Zhihu in particular has become a knowledge-sharing hub where brands can demonstrate their authority by providing valuable insights and answers to questions.

Zhihu is a great platform for brands to position themselves as industry experts. By actively participating and providing well-informed answers to questions about their area of expertise, companies can build trust and authority with users. This strategy not only increases brand visibility, but also promotes a positive reputation.

Using forums like Zhihu is a strategy about sharing knowledge, adding value and making your brand's presence as a trusted source of expertise. It's a way to build brand awareness that resonates in the dynamic world of Chinese forums.
W4 Reference Client: answer to Zhihu question for the client project44
7. Digital Advertising in China: Unlock Business Potential
Paid advertising is a driving force in China's digital marketing landscape and offers a variety of benefits to businesses. Services such as WeChat Paid Ads and Baidu Ads play a central role in this marketing revolution.

Advertising in China offers precise targeting, cost efficiency and real-time insights. WeChat Paid Ads, with its large user base, offers an engaging platform to connect with Chinese consumers and increase brand visibility and followers in a short period of time.
Baidu PPC (Pay-Per-Click) is key to increasing brand visibility in China's competitive digital landscape. Enabling precise targeting and campaign optimisation, this platform will help you to reach a high-quality audience.

An important feature of Baidu Ads ecosystem is JiMuYu, a landing page creation system. Jimuyu simplifies the creation of effective landing pages and provides a seamless advertising experience that helps foreign businesses that do not have their website in Chinese to create a Chinese landing page for their Chinese audience. With customisable and pre-built options, businesses can tailor landing pages to their marketing goals, increasing the effectiveness of their campaigns.

Baidu PPC combined with Jimuyu is the perfect combination for success in China's digital world, where precision, data insights and customised landing pages are critical.
W4 Reference Client: Set up and management of Baidu PPC for the client Nanoworld
8. Search Engine Optimisation (SEO) for Baidu
Implementing SEO for Baidu is another significant strategy for businesses looking to stand out in China. Baidu, China's leading search engine, sets the stage for success. Optimising for Baidu involves adapting your website's content, structure and metadata to Baidu's algorithms and user preferences.

By using effective SEO strategies, businesses can achieve higher visibility in Baidu search results, generate more organic traffic and increase brand awareness. This approach is about creating a digital presence that will be on the search of Chinese consumers for a long-term period ensuring your business stands out in a competitive online market.
9. Key Option Leader (KOL): Improve your Brand Impact
Are you familiar with Chinese influencers, often known as KOLs (Key Opinion Leaders)? If not, it's time to get headed with the most influential method Chinese consumers use to gather information about products and services.

Key Opinion Leaders, commonly referred to as KOLs, are influential figures in various fields who possess a significant following on social media platforms, blogs, or other digital channels. These individuals have earned the trust and respect of their audience through their expertise, authenticity, and engaging content. KOLs offer businesses an effective and creative way to connect with and influence their target audience.

KOLs hold a unique position as a bridge between brands and consumers. Their ability to genuinely connect with their followers makes them credible sources of recommendations. By partnering with KOLs, businesses can extend their reach and get in contact with highly engaged audiences. KOLs can review products, create content, and promote brands, helping businesses increase brand awareness, build trust, and drive sales.
10. Mobile Optimisation
In China everything is done with the phone, from paying the subway ticket to watching the latest videos of their best KOL. It is not limited to young people as it can be in Europe, but to all ages. With a massive percentage of the population relying on smartphones for their daily activities, including shopping, entertainment, and communication, businesses need to ensure their websites and content are mobile-friendly. This means creating responsive designs, particularly mobile apps, and ensuring fast loading times to satisfy always on-the-go Chinese users.

Mobile optimisation is crucial for reaching and engaging the Chinese audience. Whether it's e-commerce, watching content, or social interactions, a seamless mobile experience is the key to success in a nation where most of society lives on mobile.
11. Exhibition Events: Bridging Digital and Personal Engagement
We now write you a bonus strategy that, although not entirely digital, can significantly boost your brand's reach by transitioning offline audiences into online followers and, eventually, loyal clients.

Exhibition events offer a unique opportunity to connect with the audience on a personal level, building trust and leaving a good impression. Chinese consumers value face-to-face interaction, direct conversations and authenticity, creating a sense of confidentiality, friendliness, and a strong first impression that digital interactions alone may not achieve. Additionally, these events serve as a gateway for attendees to add or follow a brand's WeChat Official Account or other social media profiles, initiating a digital relationship thanks to the positive in-person experience.
Exhibition events not only facilitate personal connections but also enable businesses to showcase their products or services to a new audience, expanding their reach and opening doors to new opportunities in the Chinese market.
W4 Reference Client: Support for our client project44 to Transport Logistic China Forum 2023
Bonus: Accessibility for Chinese users, the Role of Reverse Proxy
In the complex world of the Chinese digital market, where the Chinese Great Firewall limits the access to a lot of users, making your website accessible to them is a indispensable strategy. While localisation, trend awareness, and audience targeting are vital, your website accessibility cannot be overlooked.

Chinese users can encounter challenges when trying to access websites hosted on servers located outside of China, particularly in Europe. This can lead to slow loading times, security concerns, or even render your website virtually invisible to the Chinese audience.

To address this, implementing a Reverse Proxy is your solution. When a Chinese user attempts to connect to a website with a distant server location, the data has to pass over a long distance, with the risks of data loss and vulnerabilities to virtual attacks. A reverse proxy acts as an intermediary, smoothing the flow of content requests, enhancing security, reliability, and overall performance, and ensuring a seamless experience for Chinese users.
W4 Reference Client: Implementing a reverse proxy for the client Tecan
Unlock your Success in the Chinese Market with W4
In your journey to enter the Chinese market, we've offered you with an array of invaluable strategies and insights. In this article, we've explored the significance of market research and analysis, cultural sensitivity and localisation, the power of digital marketing on platforms like WeChat, Paid Ads, SEO, Reverse Proxy, exhibition events, and much more.
At W4, we bring over 25 years of expertise for your success in the Chinese market. Whether you're in search of personalised guidance, in-depth consultations, or a tailored approach to our services, we're here to guide your brand toward success in this intricate and ever-changing market. We craft solutions that align with your unique needs and goals, facilitating your entry into the Chinese market and elevating your digital presence, ultimately increasing sales. Our dedicated local team in Beijing has the comprehensive knowledge and resources necessary to support your Chinese market entry from the initial concept idea to the operational phase. Contact us today!