Companies in Europe recognize the tremendous potential of doing business in China. Many of them are looking for an approach for marketing and sales that meets the country's unique B2B and B2C landscape. There are some clear steps to bridge the global gap successfully!
The key is to build a strategy where marketing and sales activities are supported by local expertise and cutting-edge technology and seamlessly integrated into the overall organization at all times.


Think global, act local
A European mindset translated into the Mandarin language–that's not enough! While digitalization does make it possible to reach Chinese customers directly and affordably, it is essential to bring cultural natives to the team as marketing professionals who can create content and campaign strategies that organically reach Chinese customers.


Take advantage of the #1 platform
Just like in the West, Chinese consumers are digital-savvy and expect excellent service from the companies who compete for their attention. Western providers should choose a strategy of meeting their customers on the right channels and organically driving interest through customer-centric, inbound content marketing.
One channel will be right for every strategy: WeChat has a 94% daily use percentage among its 1.1 billion monthly active users, and 78% of them spend more than 30 minutes per day reading posts, buying products, playing games, or booking rides via the platform's multitude of services.
With custom H5 pages, trade fair vouchers, and games or other mini programs, companies can delight and engage customers on the platform where they are most present and engaged. And because WeChat IDs stay the same through customers' entire lives, this should be a focus of data strategy as well.

Automation technology interfaces with local platforms and enables competitive marketing and sales
Reaching the Chinese customer base also requires technology that connects Chinese channels to existing company systems. Marketing automation technology can also enable marketing, sales and service teams to analyze customer needs, automate workflows, and coordinate campaigns. This familiar pressure point is even greater in China, where competition on social media is often very intense and fast-paced.
The global market offers many excellent options for supporting customer-facing teams from a single hub: Unfortunately, ready-to-use plug-ins for interfacing with WeChat or Weibo are rare. And Chinese solutions aren't the best choice for global companies who want a mature ecosystem that cover all marketing, sales and service needs.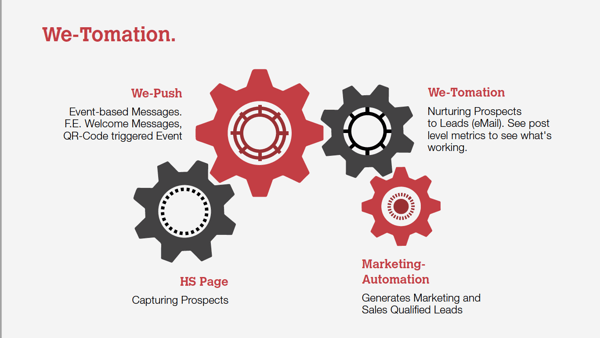 The good news: There are marketing automation software solutions that interface directly with WeChat (for example) and provide full coverage for customer-facing teams with powerful, user-friendly tools for analytics, automation and custom content creation.
If equipped with an open API, this tool can interface with all the company's business-critical systems, and can also tap into the full power of leading marketing technology ecosystems for even more advanced features.


The following points are highly recommended for B2C or especially B2B strategies:
100% local expertise
Strategic pillar: Social media, with focus on WeChat
Cutting-edge technology coverage across marketing, sales and service
Key values: Omnichannel, agile, scalable, cost-effective, user-friendly
Full integration with external systems and the overall business
If marketing and sales in China are supported by the right expertise, technology, and vision at all times, local business can be as healthy and cost-effective, as scalable and intelligent as possible—at every stage of growth. If you would like to learn more, give yourself a few minutes to read the full white paper: